Locations
Accommodation in Kapfenberg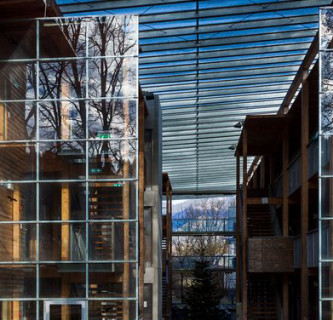 WIST residence
The WIST student residence is in close proximity to FH JOANNEUM Kapfenberg, approx. 3 minutes walking distance from the campus. Each student has his / her own 12 m² room. Three individual rooms form a flat share with shared bathroom, toilet and kitchen (67m²). For further information please visit the WIST website or send an e-mail directly to WIST.
Self-contained student flats
Facts:
about 10 minutes walk from the campus
modern student residence with 16 self-contained flats
all flats are fully furnished and have a phone and satellite TV connection
Internet access via local network (unlimited use)
communal garden available to ground floor flat residents
parking
Costs: Monthly rent (including utilities, service charges, Internet) is around € 300.
Further information: Website
E: office@sommerauer-immobilien.at
Student flats
Facts:
23 m² floor space
each flat has its own bathroom
parking for residents
TV reception (ORF 1 and 2), optional cable TV, Internet access
4 minutes walk from the campus
Costs: Monthly rent around € 230.
Further information: Website
T: +43 3862 51 505 – 0
E: office@bruckerwohnbau.at
Alternatives
There is also of course the option of looking for an apartment or flat-share in Kapfenberg. As the municipality of Kapfenberg is best informed about the latest housing developments in town, we recommend calling the municipality directly at +43 3862 22501 – 2047, visiting its homepage or contacting the citizens office, which will be happy to help you look for accommodation and answer your e-mails. It's also worth taking a look at the notice board in the main building at FH JOANNEUM Kapfenberg where you will find information on available flats and rooms in shared accommodation.
For lecturers
You can choose from the following guesthouses and hotels, which offer a discount for FH JOANNEUM lecturers. The departmental offices of FH JOANNEUM Kapfenberg will be happy to assist you in booking the accommodation of your choice.
Gasthaus/Pension Bergerbauer: Price category B
Hotel Böhlerstern: Price category A
Pension Kaiserhof: Price category C
Pension Waldcafé: Price category C
Sporthotel Grabner: Price category A
Angerer-Wirt: Price category C
The price categories state prices for bed and breakfast per person and night (prior to deduction of agreed discount): A: more than € 50 | B: € 30 - € 50 | C: less than € 30