Library
Procurement of literature
ebook acquisition request
The ebook acquisition request form gives students of the FH JOANNEUM the opportunity to propose digital books for purchase. After checking whether a purchase proposal can be implemented. We will notify you as soon as possible.
Inter-library loan
If you need books which are not in your campus library collection, we can order them from other libraries:
* either from another FH JOANNEUM library (inter-campus loan),
* or from another Austrian library or if requested even from abroad (inter-library loan).
You will be notified via e-mail when the requested item arrives.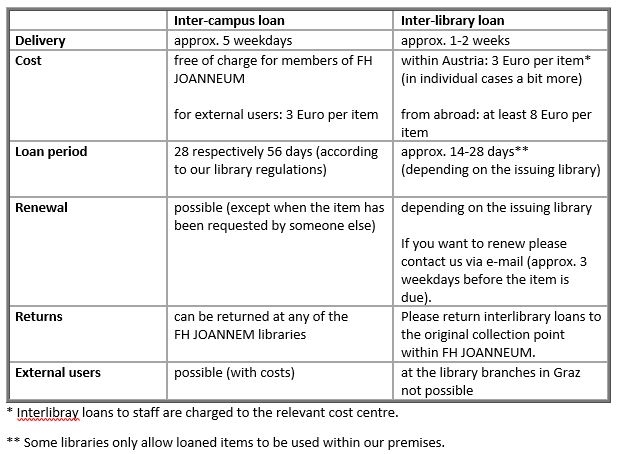 Document delivery service
You need a journal article not provided in print or online by FH JOANNEUM resources? In this case you can order the journal article via a document delivery service. We recommend Subito.
* It is cheaper for students to order items than for libraries. Therefore please make use of this service yourself. We would also like to refer our external users to Subito.
* Orders for FH JOANNEUM staff are processed and charged by us.
If the article you want is not available at Subito, we are happy to help with student requests. Please go to document delivery request.
Acquisition request
If students feel that a book or periodical that is currently not listed in our online catalogue would be a valuable addition to our library's collection, they can submit a suggestion. New media are solely ordered on behalf of the degree programmes. Consequently, we have to check whether the suggested item can be ordered at their expense. We will notify you once your acquisition request is approved or refused.