Profile
Katharina Wagner
My internship with Züblin.
Key data
Job description: Site management intern
Company: Züblin – a subsidiary of STRABAG SE
Place: Ludwigshafen am Rhein (Germany)
My contact
I did my internship from March to September 2014.
What I did
A short explanation in advance: Ludwigshafen am Rhein is home to a vast chemical plant owned by BASF. At this site, the American company Fluor was commissioned to build a new production facility for the production of a special foam. Value of this contract: 1 billion euros. Fluor in turn commissioned Züblin with the structural construction work – including a 50 m high slipform structure, the heart of the facility – and two small turnkey buildings.
My three key roles during this internship were:
Handling force-account works
Compilation and maintenance of work permits, construction reports etc.
Coordination of a few sub-contractors
Why I enjoyed my internship
Everything was fantastic at this building site – I saw crawler cranes and construction machines at work you only see at a construction trade fair. Every conceivable construction process can be found on the building sites on the BASF premises. I have even watched commercial divers spending two months sucking the sludge from an excavation pit to create a stable base for the foundations. I was given a surprising amount of responsibility and worked in a team consisting of men only. I don't think it's a problem anymore for women to gain a foothold in this industry.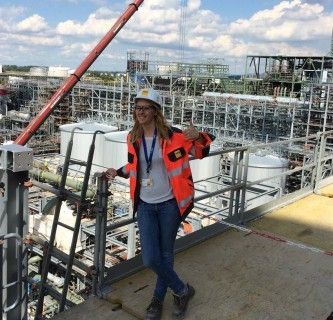 Katharina Wagner on the last day of her internship
What I learned
In addition to the valuable technical experience in construction which I acquired at this building site, the most important thing was to engage in the right communications with the clients and subcontractors. Smalltalk and personal questions are also very important. This makes colleagues, superiors and workers all feel valued as people and therefore it is easier to obtain any information required and requests are more likely to be accommodated.
My greatest experience
There were two weeks when my direct superior was on holiday. All of his phone calls and emails were directed to me during this time. I very much appreciated this show of confidence and was really able to prove myself over these two weeks.
How I secured the internship
I found this position online on the Strabag job portal. I applied to many positions and did not receive a positive response so I was really happy to be invited to Karlsruhe for an interview. The interview went well and I was in Ludwigshafen just a few months later.
What I want to do in the future
The same things I did during my internship: I want to be a site manager for a large international construction company. And in the back of my mind, my dream job is to set up my own construction company when I have acquired sufficient experience.