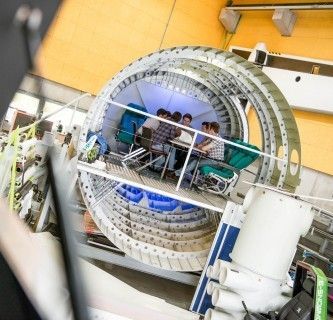 We focus on innovative mobility.
Aviation courses prepare students for a professional career in a highly internationalised high-tech sector and are thus particularly challenging. Teaching and research at the Institute of Aviation combine scientific theory and practical application, working in close collaboration with regional, national and international partners.
Research fields
Our mobility research focuses on unmanned aircraft and aircraft systems, aerodynamics and thermal management. This portfolio is complemented by research activities in lightweight design and new, easily recyclable materials which are of key importance in aviation engineering. The Institute of Aviation is part of the Department of Engineering, which is equipped with state-of-the-art testing facilities, simulators and cutting-edge design and simulation tools. The profound expertise of our staff is continuously advanced in direct industrial collaborations, nationally funded projects and coordination and participation in EU projects.
Collaboration opportunities
Collaboration with partners in research contracts or funded research projects
Exploration of research questions as part of Bachelor's and Master's theses
Degree programmes
Master's course