International
International Staff Week
International Staff Week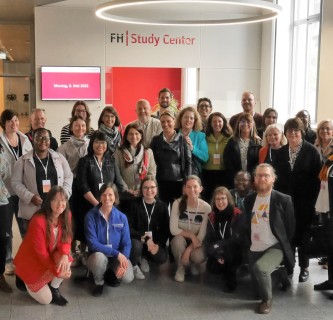 FH JOANNEUM was happy to welcome 27 colleagues from partner universities to share their experiences at our International Staff Week which took place May 8th – 12th 2023.
This year, our International Staff Week took place at FH JOANNEUM from 8 to 12 May 2023. 27 colleagues from 19 partner universities from 16 countries in Europe, Asia, Africa and the Americas spent five exciting days at FH JOANNEUM to discuss the exciting topic of "Tackling the Grand Challenges from a multidisciplinary perspective".
On the first day, our Commercial Director Martin Payer welcomed the guests with introductory words and gave an overview of FH JOANNEUM and its strategy. A keynote by Nava Shaked from Holon University of Applied Sciences in Israel on the topic of multidisciplinarity set the mood for the group and demonstrated the added value and creative potential of interdisciplinary teaching. In two workshops by Harald Wipfler and Karen Meixner, the topic of the Staff Week was worked on with the participants, who jointly defined the most important challenges of our time and brainstormed how universities can respond to them. Many small and large projects that are already running at the partner universities, as well as visions, were enthusiastically exchanged and encouraged to follow suit and think further.
Following a long-standing tradition, our International Fair took place in the same week in the Audimax Graz - a colourful event where all international colleagues presented their home universities. The prize for the best booth at the International Fair went to the wonderful team from the University Eduardo Mondlande, a partner university in Mozambique.
When visiting the Bad Gleichenberg campus, the guests were warmly welcomed by the study programmes. Harald Friedl gave an exciting lecture on sustainability in the region. Afterwards, a visit to the Zotter chocolate factory, a showcase company in terms of fair trade and sustainability, was not to be missed.
After many discussions, lively exchanges, intercultural encounters and the creation of plans on how universities can meet the great challenges of our time on both a large and small scale, our international guests started their journey home again.