International
International Staff Week
International Staff Week 2020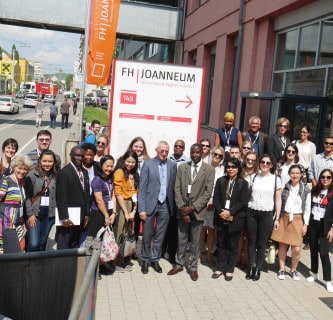 Unfortunately FH JOANNEUM – University of Applied Sciences had to cancel its International Staff Week (May 4th to 8th, 2020) in response to the situation caused by Coronavirus (COVID-19). The International Week will be held at another time in the future.
Programme:
During the staff week the following topics will be discussed (Topic 1 and 2 will also be stressed in the new Erasmus Charter 2021). Participants of the staff week can follow the workshops only for one topic:
1.Inclusion:
o How can equal and equitable access and opportunities be ensured to current and prospective participants from all backgrounds, especially underrepresented groups including individuals with special needs, from lower socio-economic backgrounds, students with family responsibilities,…
2.Safety:
o How can the safety of outgoing and incoming mobile participants be ensured and promoted? What is a good crisis management?
3.International Project Management:
o How to successfully carry out international mobility and research projects.
4.Track for librarians:
o "Teaching Library and Information Literacy" "Open Access and Publication Services"
During the International Staff Week you will not only get to know the campus in Graz but also in Bad Gleichenberg. You will participate in workshops on one of the topics presented above, get to know each other and experience a fun social programme as well as intercultural workshops and presentations. You will be asked to present your home institution with a booth at our International Fair where you will also meet our FH JOANNEUM students and staff.
Working language will be English.
Who can participate:
Only staff from partner universities of FH JOANNEUM can participate in the Staff Week. Staff from the International Relations Offices and other administrative units like
Gender & Diversity, Student Administration, PR and Marketing, Facility Management, Organisational Development, Personnel and Legal Services, Quality Development and Management, R&D, Library..) are especially welcome. Also our colleagues from our International Credit Mobility partner universities are very welcome to participate.
How can you register:
For registration please use our online registration here.
A participation fee of € 120,- will be charged. The organized social programme and lunches are free. Participants have to cover travel and hotel costs as well as costs for possible activities outside the organized programme on their own. We recommend colleagues from our Erasmus+ partner universities (KA103) to apply for an Erasmus+ grant in the International Office of their home institution. Please do not book your flight and hotel before you have received a mail that confirms that you are selected to participate. We would appreciate it if you restricted the number of registrations to 1 person per university since the maximum number of participants is 30.
You will find a preliminary programme below.
We are very much looking forward to your registration.