Lab
Entology Net:Force Lab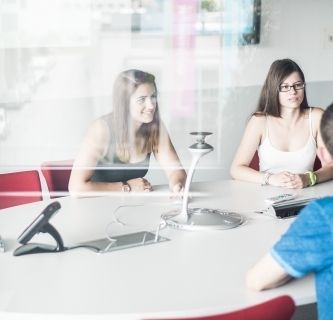 Cutting edge network technologies and optimised business processes offer a wide range of advantages. The Entology and Net:Force Laboratory established by the Institute of Business Informatics and Data Science presents a clear and comprehensive picture of these new opportunities. The state-of-the-art lab features a representative showroom for IT applications and explains complex technologies in an easy to understand way.
A conference system including a 360° camera, cost-efficient "Voice over IP" technology for desktop and mobile devices, a Cisco remote lab and touchscreens form the heart of the new laboratory, which opened in January 2010. The lab has been equipped with a wide range of presentation media, allowing students to illustrate the benefits of optimised business processes in animated presentations and to present new solutions in communication technology.
The Entology Net:Force Lab provides a powerful platform for presentations and workshops for the lab's two areas of expertise, "Enterprise Engineering & Integration" (EEI) and "Network Technologies, Telecommunications and IT Security" (NWTS).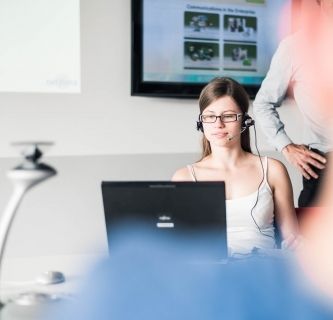 Informing and convincing cooperation partners
The laboratory also acts as an interface between the areas of expertise and cooperation partners. Potential clients, for example, learn about the advantages of IP telephony and are made aware of security risks and how to avoid them. Computer-based simulations illustrate the opportunities of Unified Communications & Collaboration solutions with a main focus on unifying, combining and accelerating communication processes. In addition, the laboratory also offers workshops and consulting services for companies.
The state-of-the-art laboratory equipment supports professional implementation of contents such as architecture and design of IT infrastructure. Student projects often focus on simplifying business and communication processes. The issue of simplification thus also plays a key role in conveying information and knowledge. Concepts, prototypes and implementations can be better explained and understood with the help of active touchscreen presentations. In this way, students not only acquire and demonstrate specialist knowledge but also learn to convey this knowledge in a way that is easily understood by non-experts.