The cooperation between University of Waterloo and FH JOANNEUM leads to an internship at Silicon Austria Labs. Sasha Korolov and her supervisor Patrick Lampl resume their experience.
FH JOANNEUM and the University of Waterloo (Canada) are running so called co-op programmes, which means that students alternately study at the university and do internship in partner companies. Sasha Korolov got the possibility to work at Silicon Austria Labs, a partner company of the institute Electronic Engineering at FH JOANNEUM. We asked her and Patrick Lampl, project leader at SAL and lecturer at FH JOANNEUM, about their gained experience.
What are you studying at your home university and why have you applied for an internship at Silicon Austria Labs in Graz?
SK: I am studying Biomedical Engineering at the University of Waterloo, Canada. This is a 5 year's co-op program which includes at least 5 compulsory internships (that is why it takes five years). As we all have to do many internships Waterloo has an online job posting portal where this job as well was announced. As I wanted to work in Europe to explore the culture and as the company being both a research institute and a technical private company at the same time I wanted to accept this new challenge.
Can you tell us about your overall experience working at the company?
SK: Working here was a little bit different but in a positive way: I was thrilled about how friendly everyone is, people are having coffee and lunch together, the group work is very good, speaking English was absolutely no problem. I learned a lot about MATLAB (this was a tool I hardly had experience with), testing out ideas, features for custom user interfaces that can be customized to the company's needs. Furthermore I gained much knowledge about Simulink and control engineering.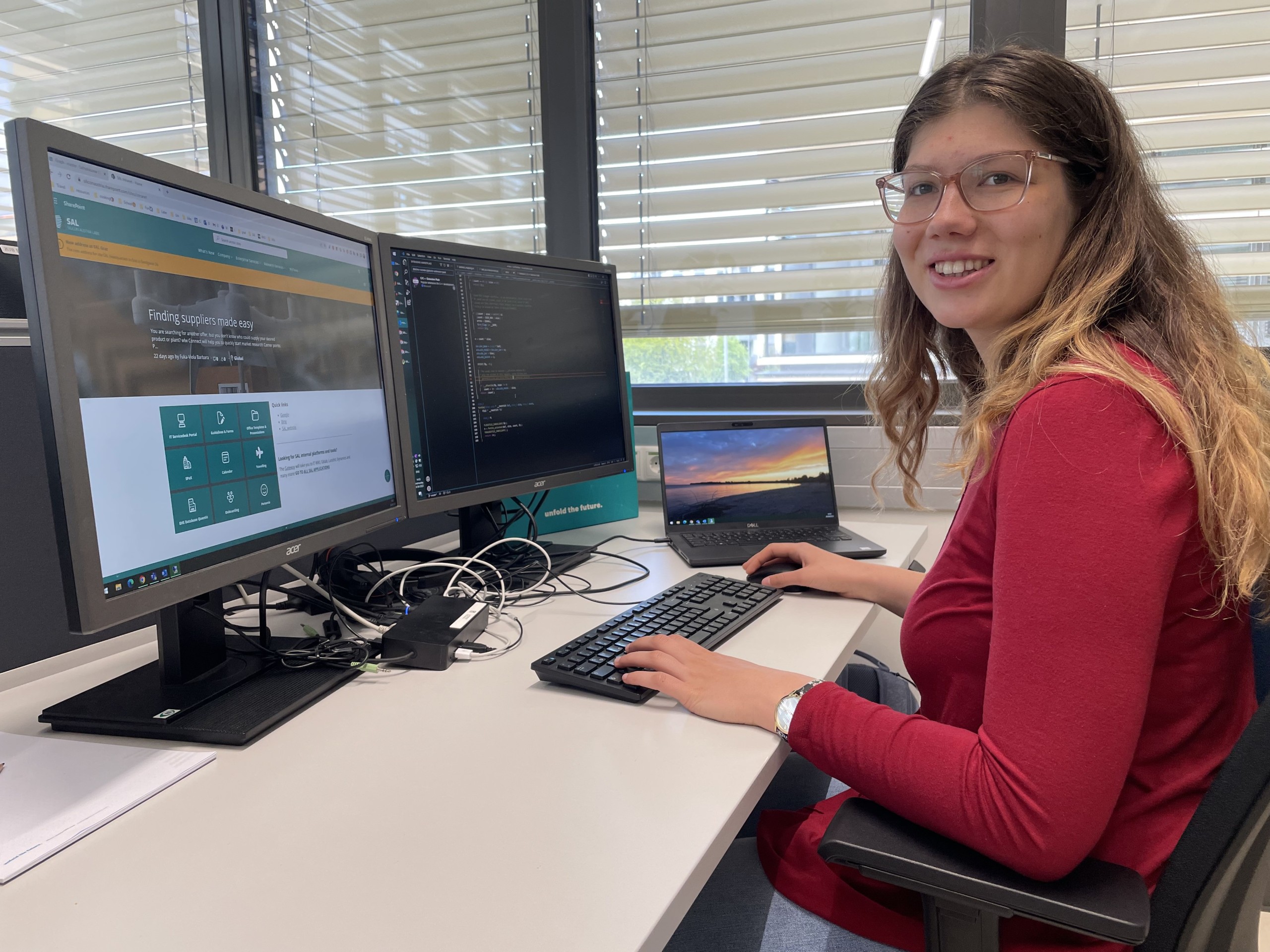 Working at Silicon Austria Labs
Patrick, what work exactly did you choose for her when planning the internship and did you change anything about the workplan when working with Sasha?
Patrick Lampl: It was the first intern we took from Waterloo and as we did not know exactly what we could expect we wanted to give her some easier tasks at the beginning. But it turned out that she had a lot of experience from her previous internships and so she got more tasks done than anticipated. For example, she created graphical UI elements to improve the functionality of our toolchain and increase its usability, she also created lots of scripts we need for compiling code, doing unit tests and verify our example designs, so basically everything we need for continuous integration.
We are very happy and satisfied with the experience of this internship. I am sure we will host more interns in the future!
Do you have this various knowledge from university or from your previous internships?
SK: Some of the knowledge comes from the curriculum, but most of the experience comes from internships, many structures are very transferable between the different languages from ie. from C toMATLAB.
What are you thinking about the overall experience of this internship?
SK: I really can recommend doing an internship abroad and especially at SAL. The onboarding went very quickly, there were no huge challenges I had to face inside and outside the company. The scientific added value was very high, but as well the social one: Austria is a beautiful country, so I visited many nice spots like Vienna,the chocolat factory Zotter and the medieval castle Riegersburg, and we went also hiking etc. Making new friends from very different areas was easy. Only the closed shops on Sunday very surprising to me.
PL: This experience was as well valuable for us as a FH JOANNEUM as wel as for SAL. I guess Waterloo's co-op program is very well established, they are focusing on getting online feedback from the companies and if there is any little problem there is always a responsible person to talk to. The education is well balanced so that students can be put in various positions within the companies and it is refreshing how independently they work.
What are your plans for the future?
SK: I would like to continue a master's degree in biology, focusing on research but at the moment it seems that I will do it back in Canada for several reasons. But I would like to thank FH JOANNEUM and Silicon Austria Labs for the organization of the internship and this thrilling experience.