Start-ups "Juanita's Sewing Box" and "Guardmine" were guests in the PR Lab Bootcamp. A look back at the start of studies in the winter semester 2021/22
During the first two weeks of "Journalism and Public Relations (PR)," all first-year students go through a boot camp to get a glimpse into the world of journalism and public relations. The JPR21 cohort went through the boot camp this past winter semester and got their first glimpse of PR:
Words and Needles.
The first day of the bootcamp started with a short introduction to the structure of the PR bootcamp by Gudrun Reimerth and Wolfgang Kühnelt. As the first guest from the field, Juanita Guerra Arellano told the students about her start-up company "Juanita's Nähbox", about her career and other projects she has initiated or been involved in. Our task now was to find startups to work with.
Q&A Number 2
On the second day, Ries Bouwman introduced us to his latest start-up project "Guardmine" and told us about his previous start-up "Omi's Apfelstrudel". He talked about why he prefers to work on his own projects rather than for others. He talked about the role of PR employees in a company and the tasks that need to be done in PR.
After the input, we took on the start-ups we had chosen on the first day. Our task was to research the start-ups and to write a blog entry from the perspective of the employees of that company. Although these blog posts remained unpublished, we got a feel for the mindset required to write PR copy.
Making Imaginary Money.
On the last day of the bootcamp, we participated in a "2 Minutes 2 Million" show - but without the millions or the cameras. The other students acted as investors to whom we presented our chosen start-up in an elevator pitch. The winners of this competition were those who could convince the most students to invest in their companies. There was a small prize for this.
Ralf Gaggl, Stefan Kohlmann and Florian Kreis are students of "Journalism and Public Relations (PR)".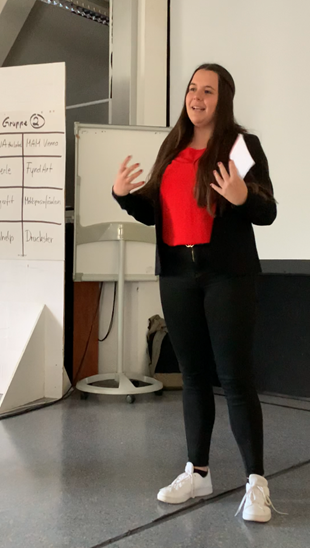 Pitching the start-up "Mehlspeisenfräulein"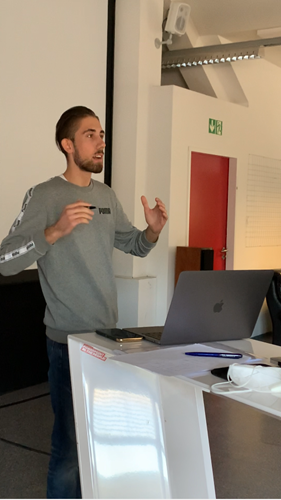 The elevator pitch for "plobox"