Master's Thesis | Communication Design
Olek—A scented book for children
A slovenian scented book for children with ASD (Autism Spectrum Disorder)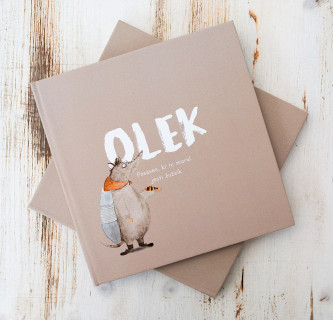 From a very early age, environmental stimulation is essential for children with Autism Spectrum Disorder (ASD). Furthermore, olfactory and tactile stimulations are producing significant developmental improvements in these children. There are now numerous children's books available which are enriched with music, sound or touch‒and‒feel elements. Despite the popularity of multi‒sensory children's books, there is a current lack of scented books which stimulate the sense of smell—especially on the Slovenian market.
The Strokovni Center Pomurje in Murska Sobota, Slovenia, was established in order to provide support to children with special needs. The center would find a scented book for children on the Autism Spectrum (as well as other disorders) very useful. Although children with ASD share the same diagnosis, they cannot be generalized—they remain individuals with different issues. However, many children with ASD have some things in common, and one of them is feeding issues. These were therefore chosen as the topic of the scented children's book.
This book was awarded the C2A – Creative Communication Award 2019.
www.marusapuhek.com