Project
OpenSense
Virtual mindfulness training for people with dementia.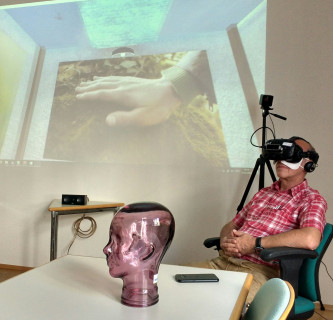 Mindfulness training in virtual reality: the integrative mind-body based approach may help to change the way people think and feel in a positive sense. A technical VR prototype developed in OpenSense is intended to raise awareness of various aspects of sensory perception through virtual mindfulness training and aims to motivate people with dementia to stimulate their senses in everyday life.
Challenges of demographic change
According to current estimates, a total of 130,000 people with dementia live in Austria. With the continuous increase in the aging population, this number will double by 2050. Adequate and appropriate care, especially in the home environment, is one of the greatest technological and societal challenges of our time. Unimodal care strategies have been replaced by multimodal intervention strategies: the combination of cognitive, physical and social stimulation is a promising approach in this context. Motivational and emotional components in particular are of key importance when it comes to implementing the necessary change in behaviour.
Multimodal training for people with dementia
OpenSense is a follow-on project to the successful SenseCity project. It aims to develop a technical VR prototype designed to raise awareness of various aspects of sensory perception through virtual mindfulness training and to motivate people with dementia to stimulate their senses in everyday life. The quantification of progress in individual mindfulness is examined using scientific measurement technologies and methods. Visual and auditory perceptions can be experienced directly in virtual reality while olfactory, gustatory and tactile perceptions are stimulated by imaginative stimulation and presence experiences.
The intended outcome of OpenSense is to evaluate the potential of VR-based mindfulness training for interventions in people with dementia and to define the necessary framework for the new ICT solution in terms of technology, usability and resources.
Enjoyment & mindfulness for enhancing cognitive reserves
VR-based sensitisation of conscious sensory perceptions helps to both enhance cognitive reserves and develop emotional autonomy and self-regulation. OpenSense explores the necessary requirements with a comprehensive open innovation strategy, involving the whole range of stakeholder groups (e.g. dementia patients, relatives, professional caregivers, scientific experts in ICT, geriatrics and psychology). There are also plans to include communication with dementia-friendly communities.
Measuring and evaluating mindfulness
The evaluation of mindfulness serves as a feedback signal for adapting and personalising the VR-based mindfulness training and plays a central role in the OpenSense feasibility study. Measurements are conducted using innovative methods such as eye tracking, which explores the gaze behaviour of test subjects during visual sensory perception and puts alertness and situation awareness in relation to mindfulness. Mobile electroencephalography (EEG) recordings are used for evaluating mindfulness during the VR-based training situation. Gaze features, stimuli and EEG parameters are compared in a small-scale pilot study.
Combined expertise
Interdisciplinary collaboration is essential for developing an innovative presence technology in a scientifically sound and gender-sensitive manner. The OpenSense project is therefore carried out in close collaboration between R&D partners, clients and users, thus harnessing expertise from different disciplines and sectors.
OpenSense is managed by JOANNEUM RESEARCH DIGITAL. The FH JOANNEUM Institute of Dietetics and Nutrition focuses on the development of an innovative component for mindfulness training involving olfactory and gustatory factors. The project consortium also includes the Medical University of Graz, the University of Graz and social service providers GEFAS Steiermark and Sozialverein Deutschlandsberg.
The project is funded by the Austrian Research Promotion Agency (FFG) as part of the "benefit" programme.