Master's thesis | Interaction Design
Pineapple, banana or lemon?
An augmented reality hybrid boardgame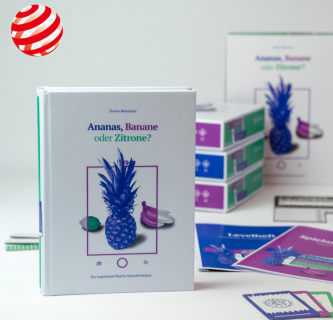 Simon Wünscher won a Red Dot Design Award 2020 for his Master's thesis "Pineapple, banana or lemon? An augmented reality hybrid boardgame".
Humans have been playing games for thousands of years. Before the digital revolution, all games were analogue. Then a big hype around digital games started. However, there are not many games that combine these two worlds yet. Therefore, the hybrid game market will be the topic of the research. As a first step it was necessary to gain information from literature that deals with games and play at general. Afterwards hybrid board games which were already on the market have been tested regarding their digital and analogue components. Moreover, interviews with international experts from various areas of the gaming industry provide an overview of the recent developments in the sector.
Based on the previous research an iterative prototype has been built and designed which, expanded with an augmented reality smartphone application, creates a new hybrid game. "Ananas, Banane oder Zitrone?" is a cooperative game for four players.