Project
SCALE – Smart Cities Advanced Learning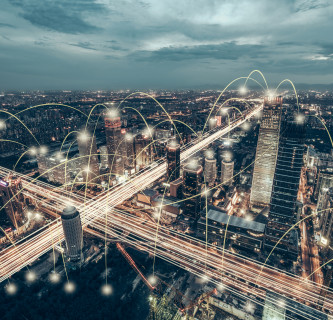 Smart cities are the answer to the current challenges of urban development: growth, energy efficiency and climate adaptation. Mobility, infrastructural supply, but also the preservation and formation of ecological foundations are organized in smart cities with intelligent systems and innovative information technologies. They are the basis for numerous economic developments.
In cooperation with the Spanish Universidad de Valladolid, the University of Applied Sciences in Bielefeld, Germany and experts from all three countries, the Institute of Construction Design and Economics is developing an online platform for Smart City topics using an interdisciplinary approach. The platform will be included in the existing studies as a trainee program with up-to-date and innovative teaching content and will also be made available to those interested in continuing their education in this area.
Project Participants
The lead, that is the management, of the project consortium was assumed by the Università de Valladolid (UVA) in Spain. The consortium includes university partners as well as companies that work in the field of innovation and technology development.
Universidad de Valladolid (ES)
Fachhochschule des Mittelstands (FHM) GmbH in Bielefeld (D)
FH JOANNEUM, Institute of Construction Design and Economics (BBW), in Graz (A)
Premium Research SL
World University Services of the Mediterranean (WUSMED) in Girona (ES)
Energie Impuls OWL e.V. in Bielefeld (D)
Innovation Service Network GmbH (ISN) in Graz (A)
Summary
SCALE is a project that fulfils many aspects of an innovative university education:
Students meet experts from science, research, business and administration and learn from professionals
Representatives of science, research, business and cities work together to develop smart city-specific content
Students develop innovative and practice-oriented projects at the interface of sci-ence, research and economic implementation
Students work at interdisciplinary and international levels
Students work at interdisciplinary and international levels:
With the development of Smart City curricula and concepts for adequate teaching in university education, SCALE makes an innovative contribution to the European education system as well as to the improved cooperation of universities and their partner companies from research and industry. The implementation of the project in the three EU countries – Germany, Spain and Austria – also promotes networking of the European education and research landscape.