Master's Thesis | Exhibition Design
Slow Food | What does it mean to you?
A marketing campaign with a focus on content and the set design of video clips.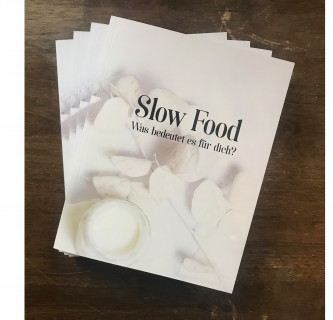 Slow Food — a familiar term only for insiders? The goal of this thesis is to increase awareness of Slow Food, while highlighting and clarifying the complexity of this food movement. The Food Report 2018, written by nutritional psychologist and food researcher Hanni Rützler, and an interview with Manfred Flieser, the Convivium Leader of Slow Food Styria, presents this trend on a local level.
Five video clips in stop motion technique serve as a playful information medium. In order to convey the information on a more personal level, a tasting was organized at the packaging–free supermarket Das Dekagramm in Graz. In conjunction with print media and the website www.slowfoodist.co, a holistic marketing concept has been created with the core idea of illustrating the philosophy of Slow Food in order to bring it closer to people and thus onto their plates.