Research
SOULMATE
Active mobility for best agers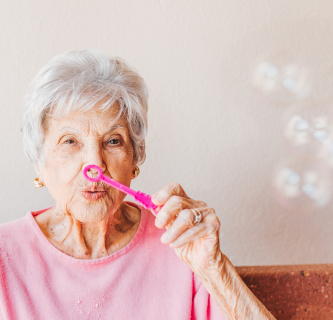 Safety on all journeys
Daily journeys can be difficult at an advanced age. Cognitive or physical impairments can make independent travel challenging. SOULMATE is a project which aims to develop a safety net for senior citizens. One part of the project is to develop an app for smartphones, which responds to the individual wishes of elderly people and offers them support in their everyday lives. Elderly people should be enabled to feel safe and comfortable on the street, in the city and when using public transport.
Project goals
SOULMATE is a service for elderly people to improve their mobility and safety. It ensures to fulfil travel wishes securely. This project aims to provide elderly people with a digital solution that supports and accompanies them in their outside activities.
The SOULMATE app
The app includes three different modules of mobility support: virtual training of a route, routing during trips by navigation and security of an emergency system.
The app is intended to provide an indoor cycling solution that allows users to practice routes in a safe virtual training environment. Thus, users will be prepared for real outdoor routes.
Active navigation and information about the route are provided. The app focuses on different preferences of people, f.e. the shortest route or different types of transport modes. The app is equipped with an emergency button that becomes active in case of an emergency. This button contacts a previously defined person or emergency services. The current position of the person is sent to the emergency contact. Besides, a video connection is provided for assistance and active support.
Users can be monitored on a route by a person of their trust if they agree. This module provides passive monitoring on all routes. The user's location is determined by GPS and compared with the planned route. Deviations from the planned route are identified and the trusted person receives a message with the person's current position. Therefore, safe navigation and safe arrival can be supported.
Outlook
SOULMATE is a project of several institutions from three EU countries (Austria, Netherlands and Belgium). The project is developed, tested and realised together with the end-users. The group to be examined is involved in several phases of the project. This group includes people aged 65 and over in Austria, Belgium and the Netherlands. The project also evaluates the usability, technical and economic aspects of the app.