Project
Sustainable Protein: Integrated Insect Innovations spi³
Sustainable and efficient production of animal protein using the case of insects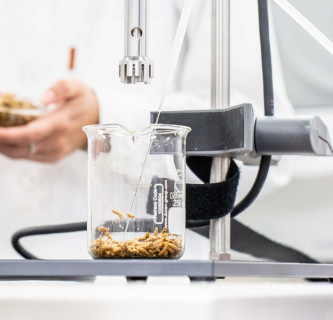 The aim of the research project "Sustainable Protein: Integrated Insect Innovations spi³" is to investigate, how protein can be produced sustainably and efficiently along the entire food value chain in Austria, by using the case of insects.
Locally implementable value chains will be identified and technologies and products will be developed through the establishment of a network of experts, from different research fields such as food, engineering, nutrition and social sciences together with SME enterprises.
A further goal is to build up infrastructure, interdisciplinary competences and intersectoral research and development networks with companies and other research institutions as well as with SMEs. This orientation corresponds to the strategic research focus of the FH JOANNEUM University of Applied Sciences. As such, the established competencies, infrastructure and business and research networks should will be maintained in further research and development project. Besides, new knowledge and competences acquired through the project will be integrated into the applied teaching of students. Specifically, innovations should emerge such as optimized process chains, plants and processes as well as products in the feed and food sectors.
Due to the strong focus on nationally available material flows (substrates), the involvement of the relevant stakeholders along the food value chain in Austria as well as the consumers (consumer needs and acceptance), it is expected that the unique products and processes will be established on the market, and unfold positive economic and ecologic effects in line with a circular economy.