Division
Organisational Development and Occupational Health Management
The best way the world has moved forward is by trusting innovative new ideas. (Edgar H. Schein)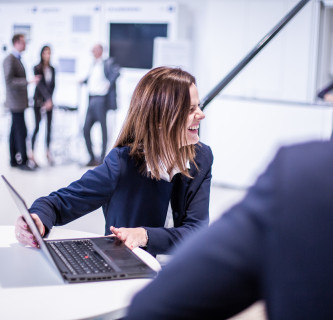 FH JOANNEUM is endeavouring to further enhance its position as one of Austria's leading universities of applied sciences. We intend to achieve this by developing a strategic focus and profile and by ensuring continuous growth and effective organisation.
The university sector is constantly evolving, and must adapt to structural changes and new demands. The Organisational Development and Occupational Health Management division at FH JOANNEUM coordinates and supports our university's strategic advancement to ensure that we continue to remain successful in a changing operating environment.
In close consultation with the university management and working intensively with the departments and other service units, the Organisational Development and Occupational Health Management division is focusing on the organisational framework conditions at FH JOANNEUM. It is the central point of contact for the planning and management of strategic projects right across the organisation.
Organisational development is a key tool for managing organisational change in a systematic and strategic manner, and in alignment with the organisation as a whole. Occupational health management is the second focal area for shaping our university's successful future.
Organisational Development
The division supports the development of the university by taking an active role in the strategy process and by planning, managing and implementing strategic projects. Our tasks include:
advising and supporting the management in matters of organisational development
supporting the strategy process and the strategic planning and management of the project portfolio
advising, initiating and supporting organisational development projects for all organisational units of the university
identifying development potentials within the organisation
continuous analysis and improvement of business processes
Occupational Health Management
We are aware that a university is a role model as an organisation that promotes health, and we regard occupational health management as part of our managerial culture. Health management helps FH JOANNEUM to create an appropriate working environment, achieved through the systematic implementation of measures designed to preserve, promote and restore health.
Our tasks include:
strategic planning of occupational health management
advising and supporting the management in developments relevant to the university sector and trends in health promotion and prevention
establishing, developing and coordinating processes and services designed to maintain and promote the safety and health of FH JOANNEUM staff
providing health promotion measures for staff
chairing the FH JOANNEUM occupational health and safety committee
Team