Department of Management
Bank Management
My Studies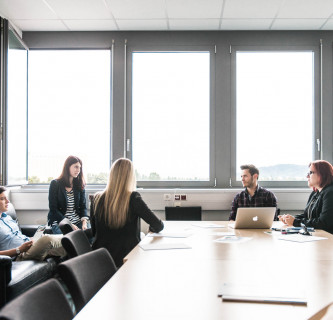 What is Bank Management?
The Bank Management study track, part of the Master's degree programme in Banking and Insurance Management, equips you with extensive and relevant expertise in banking. Students are trained to become tomorrow's decision-makers in the finance sector. You will also learn about the international finance system and regulatory standards. Your awareness of responsible corporate management will enable you to consider the individual aspects of banking management in depth.
The finance sector has faced many challenges in recent years and continues to operate in a demanding environment. An increasing volume of legal and regulatory standards, volatile markets, changing customer requirements, new technologies and the transformation of entire business models: our graduates play a key role in effectively guiding businesses in the banking sector through these changes on a daily basis, contributing to their strategic and operational success.
Our graduates are qualified to take on responsible roles in the banking and financial sector around the world. They include positions in corporate and private banking, as well as asset and risk management. Your training also opens up the path to careers in wealth management and consulting, either for financial institutions or fund management companies. Some graduates are employed by supervisory authorities, in business and tax consultancy, and in company finance and legal departments.
Former graduates can be found in many positions of responsibility, on supervisory boards and management boards, as heads of departments and divisions, and as successful sales managers and experts in specialist departments.
On the programme you will develop and consolidate your management skills. From agile project and digital process management to innovative business models and leadership, you will broaden your specialist knowledge and enhance your ability to lead. You'll also gain an insight into the international financial system and regulatory standards.
Key areas of the Master's degree programme
International Finance & Regulation
Students gain insights into important economic and regulatory issues such as the structure of the international monetary and financial system, the latest IFRS and US-GAAP requirements for international accounting, and developments in international banking regulations. Regulation has become an increasingly important issue in the wake of the financial crisis. However, the financial crisis is not the only factor which has played a key role in shaping banking regulation: new technologies and ongoing digitalisation also present new regulatory challenges. Our graduates bring value to their employers by helping to manage this greater regulatory complexity efficiently. During your studies you will explore these key issues and discuss them with experts.
Leadership
Agility is the new status quo. Change, ambiguity and agility are shaping our daily working lives. There has never been such pressure on managers to guide their staff, to support them during change processes and to act as role models. The ability to take decisions and delegate responsibilities in uncertain times are skills that must be learned. Your part-time Bank Management course will also prepare you for a future role as a leader in the finance sector.
Bank Management
We provide you with an integrated understanding of the banking business. You will focus on corporate management, sales management and the relevant product classes in the banking sector. Existing and future business models, FinTech and banking case studies are all used to consolidate your learning. You will become an expert in banking, enabling you to contribute significantly to both the strategic and operational success of businesses in the sector.
FinTechs
A fresh wind and an essential sparring partner for the big players? During the Master's degree programme you will immerse yourself in the business models of FinTechs. Are these companies a danger to traditional banking business models? What form can cooperation take, and is it worth the investment? What added value do FinTechs create? Are agility and speed always a benefit? Our graduates can offer precise answers to all these questions. Offering an ideal combination of theory and practice, the programme takes our students on an excursion where they can see behind the scenes of this dynamic and growing sector.
Sales Management / Sales
Sales is another area covered on the programme. Cost and price pressures, new customer demands, products, competitors and channels: a rapidly developing environment requires new approaches in sales management. As first movers, graduates of the Master's degree programme have a head start in this field.
Innovative Business Models
Advancing globalisation, dynamic markets, new technological trends and regulatory changes are all pervasive issues – not to mention digitalisation. Digitalisation is both a driver and a challenge for the financial sector, requiring qualified employees with both comprehensive expertise and technological know-how. In a global economy, the agility and speed with which businesses can adjust to new trends and technologies, organisational change and new business models determine their long-term success. This applies in particular to companies in the banking sector. On our part-time Bank Management programme, we provide students with the skills and know-how they need to generate this success over the long term. The course examines current innovative business models in the banking sector, using these as a basis for discussion in order to develop new models. The motto here is "think ahead".
Case Studies
We set great store by innovative teaching methods. During the programme we examine case studies published by respected institutions in order to further strengthen your decision-making and innovative skills, your capacity to act, your joined-up thinking and problem-solving abilities. The focus is placed on combining theory and practice.
Read next:
Curriculum
To make your education as wide-ranging and practice-oriented as possible, the course content is divided into modules of different subject areas. Here you can find an overview of all modules and the associated courses.