International Degree-seeking Students
My Studies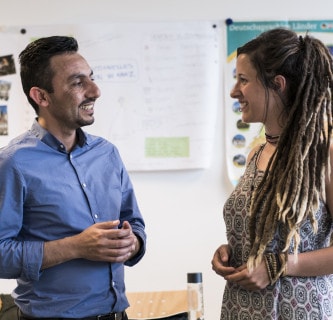 Detailed information about the Bachelor's and Master's degree programmes can be found on the relevant web pages. Furthermore you can take part at these courses:
Working in Austria
Whether or not you are allowed to work in Austria depends on your nationality, the kind of work you would undertake and – for nationals of third countries – also on the kind of residence permit.
Nationals of Belgium, Bulgaria, Croatia, Czech Republic, Denmark, Estonia, Germany, Hungary, Finland, France, Greece, Ireland, Iceland, Italy, Latvia, Liechtenstein, Lithuania, Luxembourg, Malta, Netherlands, Norway, Poland, Portugal, Romania, Slovakia, Slovenia, Sweden, Spain, Cyprus or Switzerland are allowed to work in Austria without any further permit (e.g. work permit) being required.
Students from all other countries ("third countries"), who are in possession of a residence permit for study purposes ("Aufenthaltsbewilligung Studierender") are allowed to work to a limited extent and in accordance with the regulations set down in the Austrian Act Governing the Employment of Foreign Nationals (Ausländerbeschäftigungsgesetz – AuslBG), which as a rule require a work permit. Please read the following regulations carefully. If you violate them you risk a hefty fine or even losing your residence permit! If you are in any doubt please make sure to enquire at the employment office (Arbeitsmarktservice/AMS) or at an advice organisation before taking up a job.
Employment with employment contract (unselbstständige Beschäftigung)
The prerequisite for employment is a working permit, the employer has to apply for it at the employment office (Arbeitsmarktservice/AMS) before the employee takes up work. Students at Austrian universities, universities of applied sciences and accredited private universities get working permits under easier conditions.
Students get a work permit for employment for
Special cases, e.g. unpaid trainees (Volontäre) or vocational internships (Berufspraktika): Unpaid trainees are persons who are employed for up to three months per calendar year exclusively for the purpose of acquiring practical knowledge and skills without commitment to work and without any right to remuneration. A vocational internship is an employment (practical training) which is required by the study plan of an Austrian educational institution with public status. In both cases no work permit is required but the employer has to notify the employment office (Arbeitsmarktservice) and the tax authorities at least 2 weeks before the beginning of the employment.
Scholarships
FH JOANNEUM merit-based scholarships for students from non-EU/EEA countries
FH JOANNEUM grants merit-based scholarships for third country students. These scholarships are available for degree seeking students at FH JOANNEUM who are citizens of non-EU/EEA countries and are not fully or partially exempt from the cost contribution. The call for applications is sent out every year during the fall. Students are eligible to apply once during their bachelor's degree studies and once during their master's degree studies.
Scholarship Programme of the Afro-Asian Institute
The Scholarship Programme of the Afro-Asian Institute (AAI) in Graz is directed to students from developing countries at universities and universities of applied sciences in Styria and is meant to contribute to the peaceful coexistence of people from different countries of origin by enhancing equal opportunities, dialogue, intercultural know-how and partnership.
Liese-Prokop Scholarship
The Liese-Prokop Scholarships granted by the Austrian Integration Fund (ÖIF) on behalf of the Austrian Federal Ministry of the Interior are awarded twice a year. The scholarships are available to the following groups of students studying at Austrian universities: recognised refugees, people eligible for subsidiary protection, persons with long-term residence permits who are not eligible for national student grants (unrestricted residence permit, residence permit as a relative or family member).
ÖH Social Fund
Every member of the National Student Union (ÖH) who finds himself of herself in a financial emergency may apply to receive one-off support payments from the Social Fund every 12 months.
Antidiscrimination Office Styria
The Antidiscrimination Office is the first point of contact for people who feel that they have been disadvantaged or discriminated against – whatever the reasons or context. It provides information, counselling and advice about responsibilities and possible courses of action.