Research
Smart Care Laboratory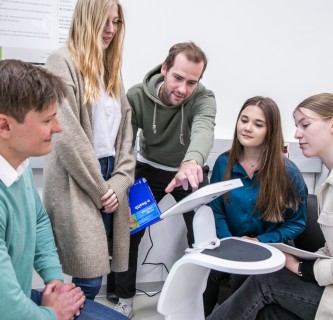 The Smart Care Laboratory is about supporting people in a home environment by using technologies that offer additional functions due to data networking and remote controllability, as well as the analysis and improvement of innovative processes such as tele-nursing, telemedical services and self-care. Telemedical care and documentation processes can be developed and optimized under real-world conditions with the involvement of all relevant stakeholders before they actually go into trial operation with our project partners.
The Smart Care Laboratory is designed as a living lab and thus makes an important contribution to the realization of the mission statement of the eHealth Institute:
"We traintomorrow's eHealth experts who will help shape the digital transformation of the healthcare sector in order to improve people's quality of life."
In line with the teaching priorities of the eHealth Institute, the Smart Care Laboratory is intended to create an opportunity to practice complex theoretical teaching content in a practice-oriented, hands-on environment.
The Smart Care Laboratory is used in many ways:
Healthy Aging – Active (Ambient) Assisted Living: Assistive technologies in one's own four walls can be an alternative to the nursing home for many people. The research field ranges from smart home applications that support the performance of everyday activities, sensor-supported monitoring and remote monitoring of chronically ill people to care robots.
Smart Health Care – Wearables in healthcare: Sensors, which are becoming ever smaller and cheaper, as well as smart applications based on artificial intelligence form the technological basis for efficient and high-quality diagnostic and therapy processes. With the use of new information and communication technologies, it is possible to analyze existing processes and to optimize them with regard to the use of new technologies.
Documentation standards and data management in healthcare – HL7, CDISC, DRG: Documentation standards such as HL7 or CDISC are intended to increase interoperability and thus lead to higher efficiency and an increase in data quality. When it comes to routine clinical data, there is a great need for coordination between the different sectors of the health and social care system. Medical and nursing discharge letters, findings or medication data must be exchangeable between hospitals, outpatient clinics and nursing homes.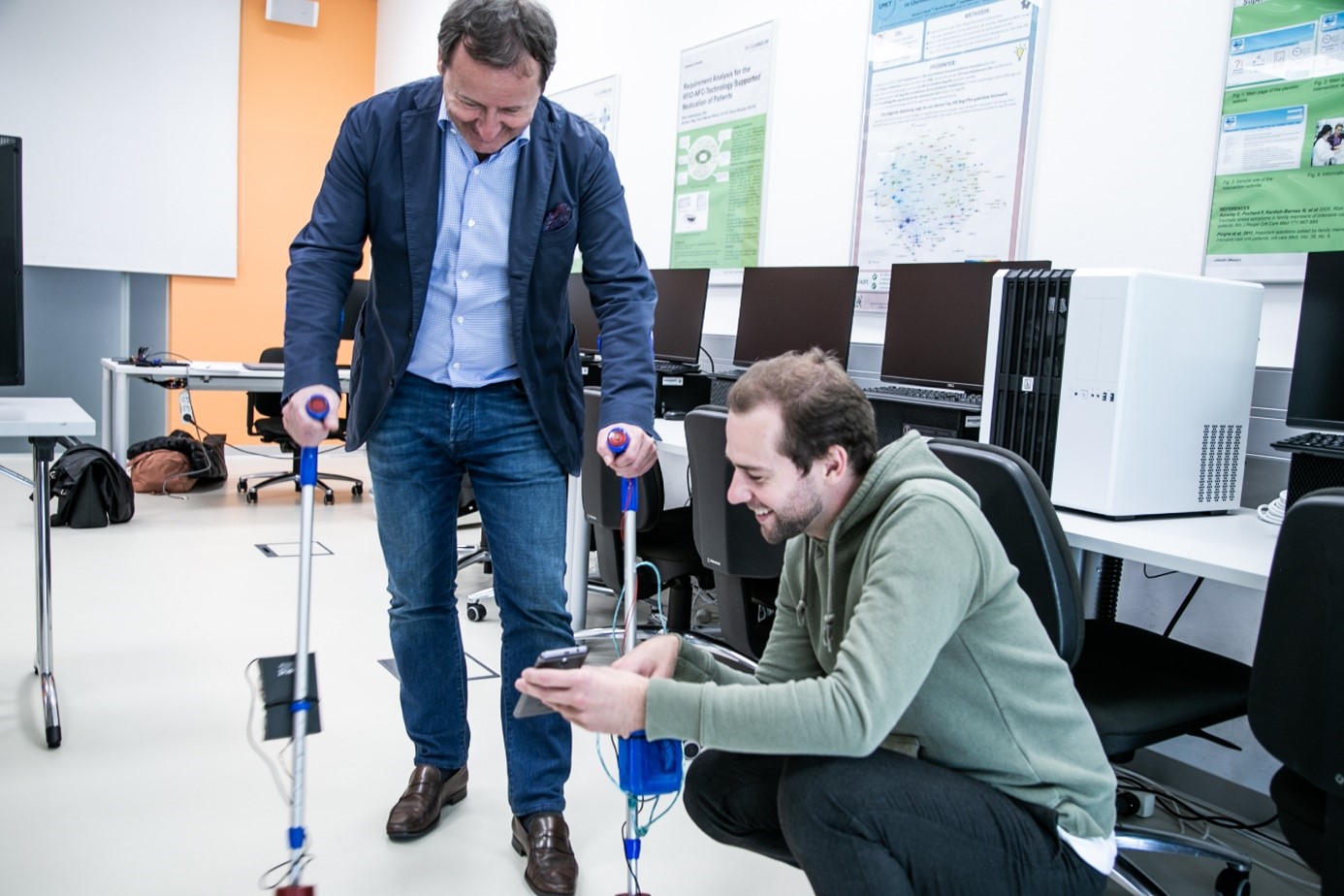 Smart crutches support rehabilitation after knee surgery (© FH JOANNEUM).
The surface area of the Smart Care laboratory is divided into three sub-areas:
A model apartment consisting of a bedroom (bed), a small kitchen (with simulated stove, sink, dishwasher, refrigerator), and a living room (TV, couch and coffee table). Everyhting is equipped with Smart Home and AAL technologies.
Teleconsultation area with PC workstations for monitoring the vital parameters and electronic communication with the subjects in the model apartment. Vital parameters and other measurements are exchanged with the model apartment via various transmission paths such as WLAN, LAN, Bluetooth, etc. Furthermore, the hospital information system (HIS) from the Meierhofer company is installed for teaching purposes.
Presentation area with projection screen for viewers / visitors