Project
NASCA – Navigation As Source for Creative Art
In the framework of the NASCA project – "Navigation As Source for Creative Art" – Styrian pupils learned in a playful way how geopositioning works. Through coordinated movements in the open air the children and young people drew graphics in digital images. The moving body became a design element.
The Peruvian Nazca lines are world famous. They are giant geoglyphs in the Peruvian desert which only reveal their contours from the air or the mountains. These almost 3000-year-old works of art served as models for the NASCA project (Navigation As Source for Creative Art). The drawings were made during the project not in desert rock, but rather using GPS movement patterns of smartphones, iPods and tablets on digital maps.
A llama with a hat in Bruck's town centre, a giant flower on the school sports ground and abstract art in the lanes of Mixnitz – these are only a few of the works of art which the pupils conjured up on the landscape using their own movements. The GPS coordinates were recorded and the movement patterns of the children and young people were transmitted to a digital map, forming a drawing.
The necessary app was developed by staff of the NASCA project in cooperation with the pupils. The graphics produced can be seen at www.nasca.at, where the app is also available for free download for iPhones, iPods and Android devices.
Peer teaching and project competition
Navigation using technical devices, such as smartphones, is very popular and is of great importance for mobility. The NASCA project introduces pupils aged from 6 to 18 to navigation in a fun way. The project aimed at familiarising pupils with the basic principles of geopositioning and how this data is transferred to their smartphone (or other device). The children also learned how companies in the technology sector are advancing and using these possibilities.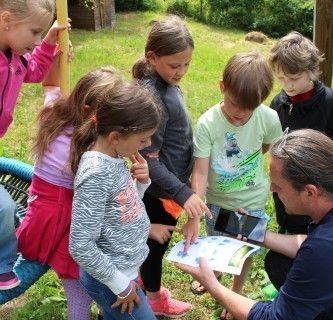 Styrian pupils learn in a playful way how geopositioning works.
Creativity and fun sparked curiosity about the technical basics. These technical aspects of navigation, positioning and geographic information systems were communicated in workshops in an interdisciplinary and age-appropriate way and deepened through peer teaching. The higher school levels helped to prepare tasks and content for the lower levels and supported the younger pupils with any questions that came up. A competition at the end of the NASCA project provided additional motivation by allowing the pupils to demonstrate their acquired knowledge and creativity.