Research
Range of Services
FIT4BA research and innovation centre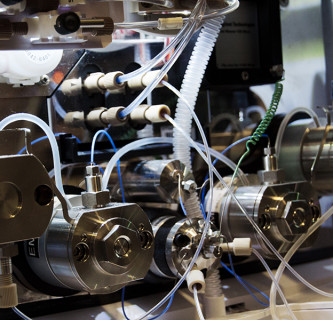 The Big Data and Artificial Intelligence Research Center provides your company with professional support for the entire big data analysis process using methods of artificial intelligence (AI).
We offer regional companies the expertise needed to implement integrated AI processes and we help create added value by analysing company-specific data sets. We are experts in the functional implementation of sensor networks (Internet of Things; IoT) based on innovative IT paradigms. This includes edge, fog and cloud design principles, data preparation, data storage and data analysis as well as the presentation and interpretation of relevant facts.
Consulting
Forward-looking and data-centric planning is a key success factor for AI projects. We support your decision-making processes when it comes to big data. Tailored requirements analyses help you to select the appropriate tools and process models.
Data management
Data is the fuel for data-driven organisations. Needs-based data preparation and data storage is therefore essential for the target-oriented acquisition of information using AI. We offer a wide range of data transformation methods and data storage technologies with a focus on big data.
IT infrastructure
We design IoT networks based on innovative design principles and associated process-oriented models. We focus on open standards and modular systems to ensure a high level of technology independence and interoperability between different system environments. We design these systems in line with flexible and cloud-based architectural principles.
Data analysis
Mathematical and statistical methods are a prerequisite for AI-based data analysis. We are proficient in machine learning with a focus on classification, regression and cluster analysis as well as powerful statistical functions for big data analysis. Our core expertise includes the creation of use cases and data analysis projects for various domains such as trade, health care, services and industry.
Result presentation & interpretation support
The interpretation of data analysis results is a complex and laborious process. We provide you with suitable methods for results presentation. Our innovative methods and data visualisation tools enable us to assess situations effectively and efficiently. We thus create added value for your company by interpreting the results in a targeted manner.
Fields of application
Artificial intelligence can be applied to practically all spheres of knowledge, especially areas where big data is generated. These data are the basis for creating added value in the cultural, scientific and economic spheres. Prominent examples include technological development, engineering, mining, health care, media and government.