Department of Engineering
Electronics and Computer Engineering
My Studies
Student projects
The class schedule for the course has been purposely fixed as a three-weekday block to allow our students to work in a firm alongside their studies or to pursue their own research in our Research and Development Centre. Such activities make an important contribution to the practical training which forms an integral part of the Electronics and Computer Engineering course. We are more than happy to support our students in their choice of suitable companies and organisations.
Some well-known examples of our partner firms are:
AMS
AT&S
AVL
Infineon
Magna
The advantages of following a part-time course of study include insights into problem-solving in industry, practical experience of the world of work and the opportunity to get to know potential future employers.
Current student projects
ARGUS – Alarm systems for gantries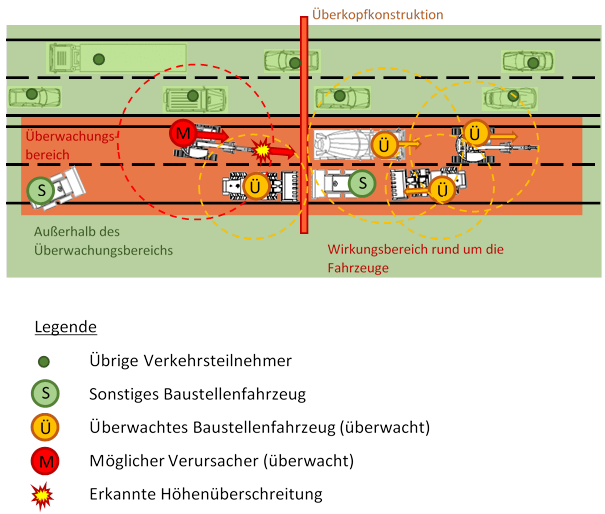 Graphical overview of the created system concept.
Austrian motorways are equipped with gantries with road signs or cameras attached to them. These overhead structures run the risk of being damaged as the result of the careless handling of machinery used on construction sites.
The aim of the ARGUS project is to develop an alarm system which will warn the machine operator before any damage is caused.
Following research into appropriate system architectures and suitable components in the fields of sensor technology, positioning, alarm methods and communications technology, a system concept is created. At a system conceptsubsequent stage a prototype is developed which is then evaluated on a motorway construction site under real-world conditions.
Duration: September 2014 to February 2016
Project manager / contact: Thomas Messner
Tracking Logger
Tracking a hike lasting several days was not possible until the Tracking Logger came along. The high energy use quickly brought GPS and smartphone batteries to the limit of their capacity. Our students therefore set themselves the task of developing hardware and software for a low-power tracking logger which would record a walk over a period of at least two weeks.
The first phase of the project involved selecting energy-saving components like the GPS module, barometer and display, whereas the second phase was dedicated to programming the operating software. A circuit board was then developed to production readiness.
Duration: 2 semesters
Semester: 2nd and 3rd semester
Project manager / contact: FH-Prof. Dipl.-Ing. Dr. Christian Netzberger
Snow radar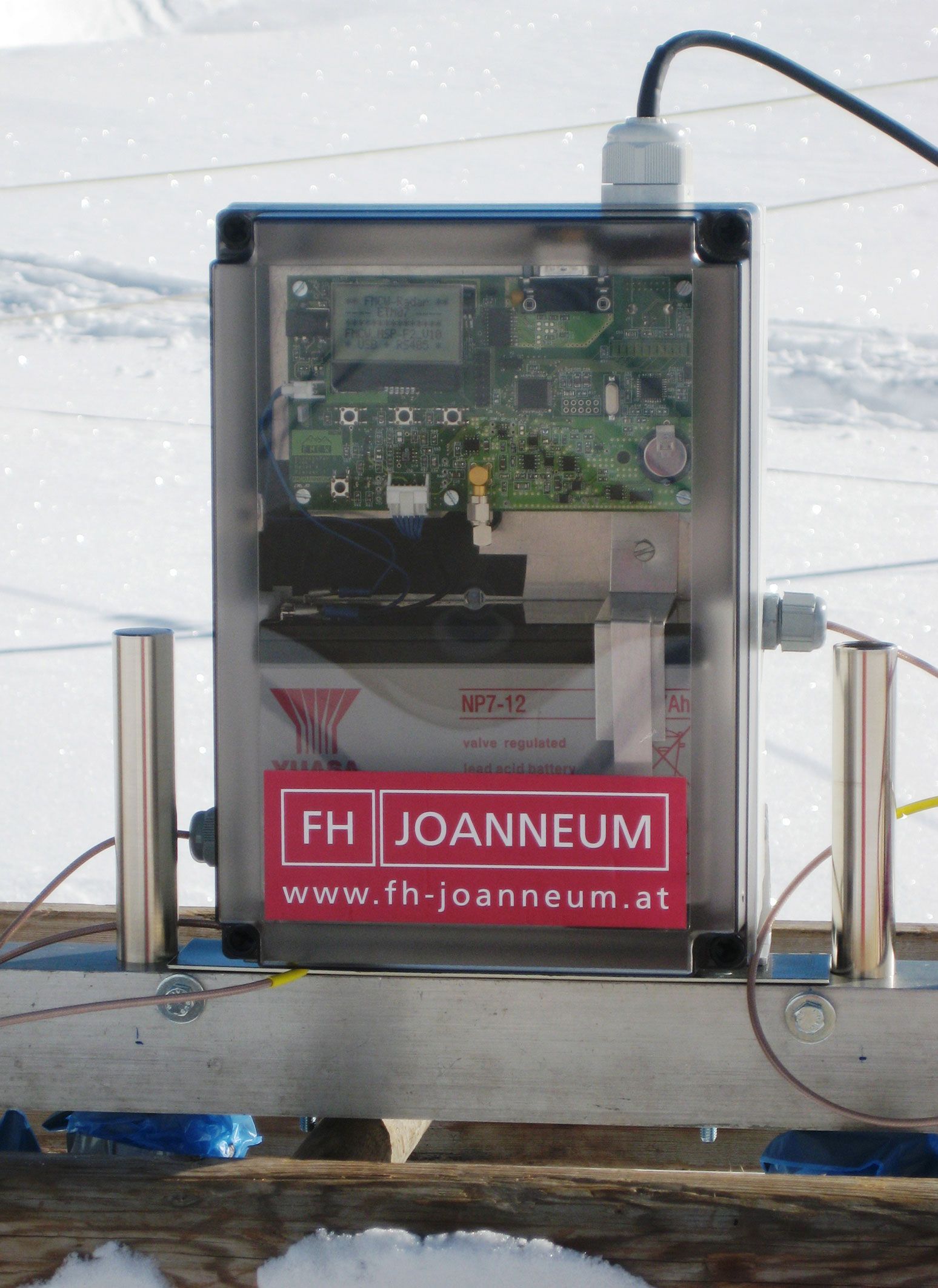 The snow radar in Davos makes it possible to measure and model the local physical properties of the snow pack.
A reliable prediction of snow stability is crucial in avalanche forecasting. This requires constant monitoring of the snow layer in the field and is usually done manually by digging a snow profile.
Between 2010 and 2013 our students worked with research partners from Germany and Switzerland to find alternative methods for measuring the stability of the snow pack. This resulted in a follow-up project with partners like the Central Institute for Meteorology and Geodynamics involving the use of remotely controlled radar systems. The snow radar makes it possible to measure and model the local physical properties of the snow pack in a safe and non-destructive manner.
Read next:
Semester Abroad
During the semester abroad at one of our partner universities you will gather intercultural experiences and expand your horizon. Here you can find more information about requirements and how it all works.