Institute of
Applied Production Sciences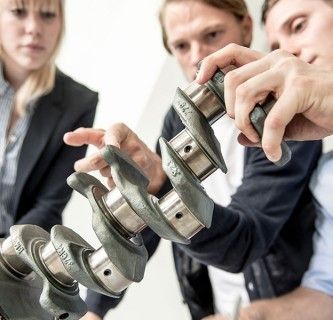 We are committed to sustainable production
The Institute of Applied Production Sciences is part of the Department of Engineering. The principles of technologically and organisationally sustainable production apply to all goods and to companies of all sizes across all industrial sectors.
The future research topics of the Institute include
virtual production and "smart factory" in industry 4.0
flexible production in terms of innovative manufacturing technologies and methods
cooperative education in engineering
This portfolio has been complemented by food production and agriculture, a complex of topics that has newly emerged at the interface between the Engineering and other departments. Research will focus on selected aspects of the agriculture value chain and product development, e.g.:
processing and value adding of food of plant and animal origin using cutting-edge technologies
food logistics and food consumption
Collaboration opportunities
Collaboration with partners in research contracts or funded research projects
Exploration of research questions as part of Bachelor's and Master's theses
Degree programmes
The degree programmes at the Institute provide practice-oriented learning in close collaboration with committed industrial partner companies.