The degree programme "Journalism and Public Relations (PR)" celebrated the first twenty years of its existence: A look at the highlights and into the future.
On the occasion of the 20th anniversary of the degree programme "Journalism and Public Relations (PR)", a festive evening event took place at FH JOANNEUM on October 21, 2022. In the Audimax, the degree programme celebrated the success story of the first twenty years with numerous guests from home and abroad.
The institute has a lot to celebrate: successful careers of graduates, national and international research projects or also the Institute Journalism and Digital Media with its integrated study and training courses.
For two hours, the presenting duo Sandra Suppan and Patrick Schlauer whisked the guests away to media hell, introduced by Heinz M. Fischer, the head of the degree programme and "legendary since 2002". For the guests of honour, the representatives of the Austrian media industry, the Institute's team, graduates, and students, the evening's programme offered retrospectives, insights, and foresights into the future of the Institute and the media in general.
The legendary head of the degree programme Heinz M. Fischer with Sandra Suppan.
As another highlight of the evening, the new publication "The Climate of Communication" with 20 theses for hot times was presented and given to the guests as food for thought.
The Institute Journalism and Digital Media thanks the many guests – among them Kurt Egger, Elke Kahr, Gerhard Koch, Wolfgang Schaller, Ernst Sittinger and Werner Müllner –, and looks forward to the next legendary years. Already next year the Institute expands with new courses.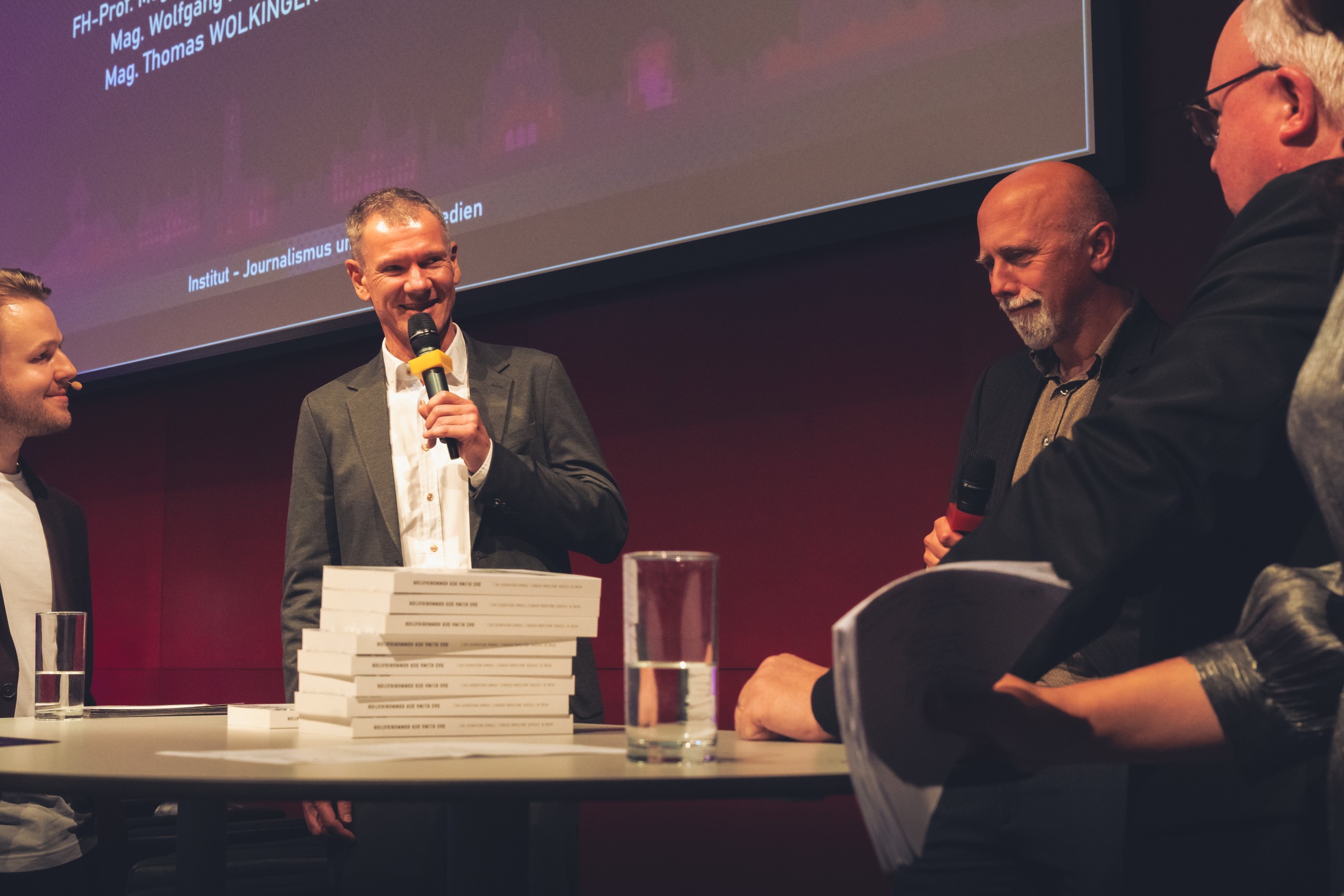 Moderator Patrick Schlauer with Wolfgang Kühnelt, Thomas Wolkinger and Heinz M. Fischer at the book launch.
What the media say about the Institute Journalism and Digital Media: