Research ZML
Our research topics
Competences for the knowledge society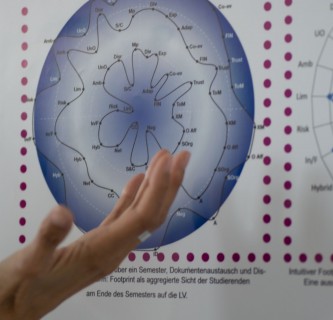 Various topics related to (online) didactics have been the focus of our research activities at the ZML since 1998. Currently, due to the Laura Bassi research project "Die Netzwerkerinnen", there is a focus on the topic of "Online Networks", which has been or will be the focus of the E-Learning Days 2021 and 2022.
Online networking and communities of practice
In the project Die Netzwerkerinnen (FFG - Laura Bassi), an online women's network has been established, where people can develop together, solve problems and learn from each other.
Sources:
(Online) learning and teaching / training
The discussion of didactics and learning theories is always a matter of interest at the ZML. Based on the current circumstances, the online portions in teaching are still raised! In addition to interactive face-to-face teaching, modern education also needs individualized, goal-oriented, digital offers − we provide these as part of our online courses, online workshops and online trainings in order to be best prepared for the challenges of online teaching.
Sources:
For many years we have been working on game-based learning, currently in the EU-project DIG4LIFE - invited by our colleagues from the Institute of Applied Production Sciences.
Visualization of online learning processes
The use of comics in the classroom has been on our minds since 2016, and during Covid-19 in the year 2020, we added the use of online whiteboards on which students can write and draw together.
Sources:
The metaphor of the series in teaching and training emerged in 2020 as an idea from Wolfgang Kühnelt in a university didactic training and has since been presented at conferences and discussed in workshops with teachers and trainers.
**Sources: **
The Footprints of Emergence have been in use at FH JOANNEUM for a long time – on degree programmes and in trainings. Their potential is still valid.
Sources: