Division
ZML – Innovative Learning Scenarios
Flexible learning and teaching happens now.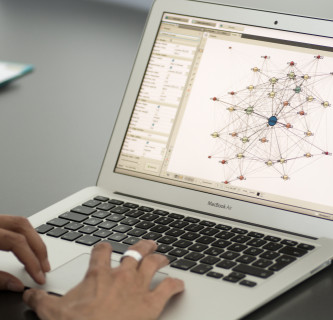 The ZML – Innovative Learning Scenarios team both follows and contributes to new e-learning trends. We are your contact partner in the fields of online teaching, e-didactics and online networks. We use our online didactics knowledge gained from research projects and technical literature to develop learning materials with a focus on visualisation and to create courses on the Moodle learning platform. We bring this knowledge to bear in the Virtual Campus as well as in our projects, workshops, trainings and courses and make it available to a broad range of students and lecturers.
We are a hybrid department, meaning that we are active in research, develop innovative online trainings, are actively involved in the continuing education programme for university didactics and provide support and advice services in all fields of online teaching to FH JOANNEUM students and lecturers.
The interdisciplinary composition of our teams provides diverse perspectives on online learning processes and online group dynamics, the design of creative learning materials, the use of social media and technical tools, and the integration of didactics in online teaching. Many of the hands-on learning materials developed by us are available as Open Educational Resources (OER).
We manage FH JOANNEUM's central Moodle learning platform, support lecturers in online teaching, online exams and online groups and ensure smooth online interaction between students as part of the Virtual Campus.
We also provide support in (online) workshops and trainings, prepare manuals and video tutorials for lecturers and students and are responsible for organising the annual FH JOANNEUM E-Learning Day. Launched over 20 years ago, this event has become a key meeting point for the online community to discuss current and future e-learning trends.
The 20th E-Learning Day of FH JOANNEUM is scheduled for Wednesday, 22 September 2021. It will be organised by ZML – Innovative Learning Scenarios in cooperation with the Master Certificate Programme in Sport Management and Coaching and will have the motto "How do we learn in online groups and online networks? – What works better online and what works better face-to-face?"
We work closely with partners across a range of collaborative projects and contract research, both nationally and internationally. Our focus is on:
E-moderation, online interaction and online networks and establishing Communities of Practice,
Emergent learning processes (including MOOCs – Massive Open Online Courses),
Online networks and
Visualisation in online learning.
Team