Services
Refugees
Access to education for asylum seekers and refugees.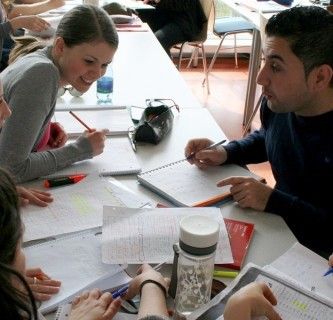 FH JOANNEUM is presenting an initial package of measures to help people fleeing from war and violence. We also want to help asylum seekers and recognised refugees to integrate and provide them with access to training and education.
"As the largest university of applied sciences in Styria, FH JOANNEUM is well aware of its social responsibility. We have therefore decided to launch a sustainable, flexible and expandable package of measures. We want to help," says FH JOANNEUM Rector Karl Peter Pfeiffer. The package of measures covers two areas.
One field is emergency aid: our employees can use one day of work to help out an organisation which supports refugees. We have also provided reception centres with computer equipment and furniture. Appeals from aid organisations providing care and assistance to refugees are passed on to employees and students.
Access to education
Over the next few weeks, integration programmes for young refugees aged 14 to 18 will be developed and implemented. There are plans for a workshop week which gives young people the opportunity to gain a taste of various engineering courses and obtain advice on courses and education. Our employees and students can also get involved in the workshops or else take part in a tandem programme in which they support the young people and introduce them to the Austrian way of life and culture.
We also want to provide easier admission procedures to young adults with a university background and offer German classes which are tailored to pursuing an academic education. FH JOANNEUM Bad Gleichenberg launched a corresponding pilot project in February 2015: asylum seekers as native speakers encourage students to use the Arabic language, and in turn attend German classes at FH JOANNEUM. We also provide support with validating qualifications acquired abroad (nostrification) and are on hand to help students choose a course. A mentoring programme should help with orientation in this new environment.
People at FH JOANNEUM want to play an active role – many employees, students, degree programmes and departments have provided ideas to help asylum seekers. Head of the International Relations department, Birgit Hernady and head of Central IT, Dietmar Ackerl have given up their time to coordinate the project proposals and measures. Our employees and students will be kept informed about current activities via an internal information portal.
To follow our latest campaigns, see our blog in the category "Guide" or follow us on facebook.
Tip:
Further information can be found on our intranet page at inside.fh-joanneum.at/refugees. The intranet can only be accessed from the FH JOANNEUM network or via VPN.
Information for asylum seekers, recognised refugees and people eligible for subsidiary protection