Department of Health Studies
Occupational Therapy
My Studies
Student projects
We believe theory is important, but students then need a practical setting in which to apply it. That is why contact with the first clients and projects form an essential part of the course, enabling students to put their learning into action.
Occupational therapy is more than just acute treatment and rehabilitation. Health promotion and disease prevention are additional specialist areas that have developed strongly in recent years. They are particularly suitable for projects, giving students an opportunity to develop and provide offers for specific target groups. Our students are also able to take part in the Institute's applied research projects.
Projects teach the students essential project management skills and also encourage them to develop practical therapeutic and organisational skills in real-world situations. A "healthy back project" with school children and a health promotion project for elderly people are just two examples of successful projects carried out by our students.
Current student projects
Wheelchair Day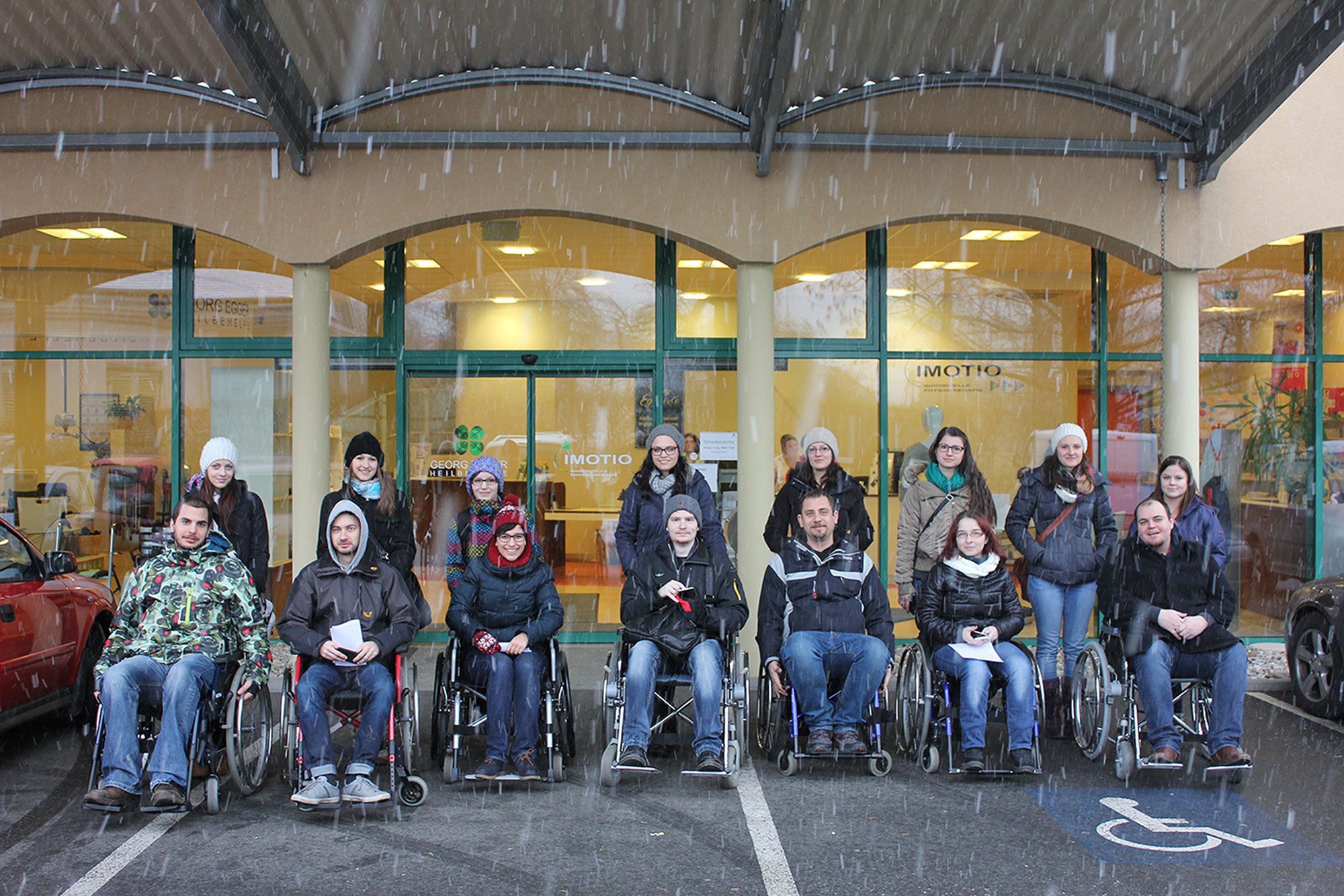 Our students
37 students from the Energy, Transport and Environmental Management and Occupational Therapy degree programmes spent a day getting around Graz in a wheelchair to put the disabled accessibility of urban facilities and transport network to the test.
Teaching staff put together a total of 74 tasks for the students to complete. Getting from Andritz to Seiersberg, from the city centre out to the Center West shopping centre. One of the tasks was to pay particular attention to wheelchair accessibility of public transport and in various different buildings as well as to observe how cooperative and helpful people tended to be. Top marks were awarded to the city's public transport provider, Holding Graz Linien.
"The interdisciplinary collaboration between the degree programmes enabled our students to learn from each other and combine expertise from the disciplines of health sciences and engineering", said Brigitte Loder-Fink, lecturer on the Occupational Therapy programme.
Regional, social resourceful: healthy living for all generations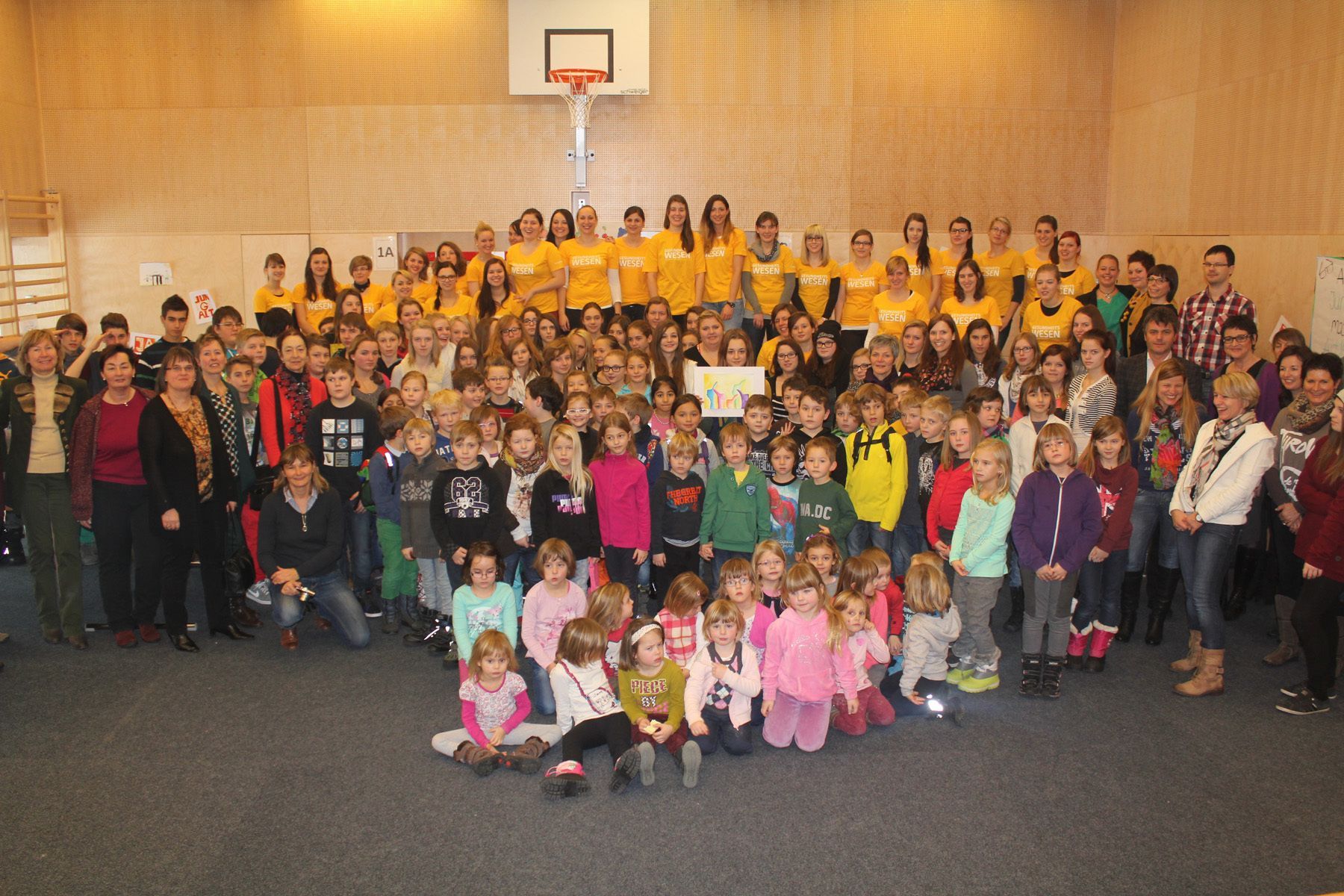 This project, carried out jointly by FH JOANNEUM and the Schloss Stein vocational school with a focus on agriculture and nutrition, is aimed at intergenerational health promotion in south-east Styria. The project runs for two years and is sponsored by the Healthy Austria Fund (Gesundes Österreich) and the Styrian Government. "What's special about this project is the inclusion of all the generations within one region and the use of the people's individual skills and experience", says project head Julia Unger.
Right from the beginning, the project directly involved the people living in the region and looked at their concerns. A needs assessment was carried out to ascertain the problems and wishes of the target groups. Specific activities were then developed and carried out in the region with citizens of all ages.
Activity day for all generations
As part of the project "Regional, social and resourceful: healthy living for all generations" the students planned, prepared and ran an activity day in which different generations from Bad Gleichenberg discussed various activities and performed them together. The hand-woven baskets and self-decorated clay pendants produced earlier during the project were exhibited and distributed. The activity day ended with a shared snack at which participants were able to try the home-baked pastries, look back on the day's activities and make further intergenerational contacts.
ENOTHE meeting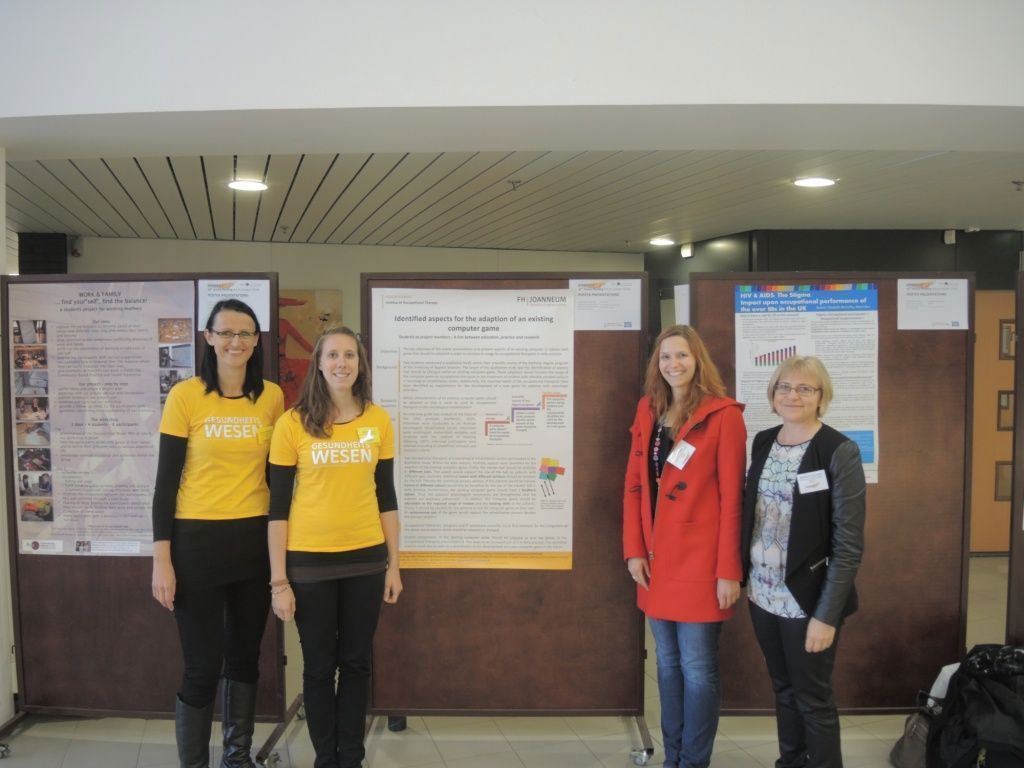 From left: Angelika Radkohl, Miriam Berger (STERG12), Julia Unger and Elisabeth Fattinger
The "Scientific Method" seminar series provides a regular opportunity for some students to prepare pre-academic papers on the current year's topic set by the EU and ENOTHE (European Network of Occupational Therapy in Higher Education). The students present these in English at the annual ENOTHE meeting. They are thus able not only to improve their language skills but also to make contact with occupational therapists and students from other countries and network at an international level.
Read next:
Semester Abroad
During the semester abroad at one of our partner universities you will gather intercultural experiences and expand your horizon. Here you can find more information about requirements and how it all works.