Department of Health Studies
Dietetics and Nutrition
My Studies
Student projects
When working on projects our students learn to approach problems independently. Student projects help to promote individual initiative and encourage leadership and coordination skills. Many projects call for teamwork. Students need to discuss their work and accept different opinions and they also need to pose critical questions. When presenting the results they need to do so in a self-confident manner. All this means that social, rhetorical and communicative skills are taught alongside subject-specific knowledge.
Project work is carried out mainly from the third semester onwards. It ranges from planning and running workshops for different target groups, such as children, school pupils and pensioners, to optimising nutrition in homes for elderly people.
This enables our students to find out what their future working day will involve and what challenges are likely to be associated with it.
Current student projects
Cellulose, E407 and protein powder? Ways through the nutrient maze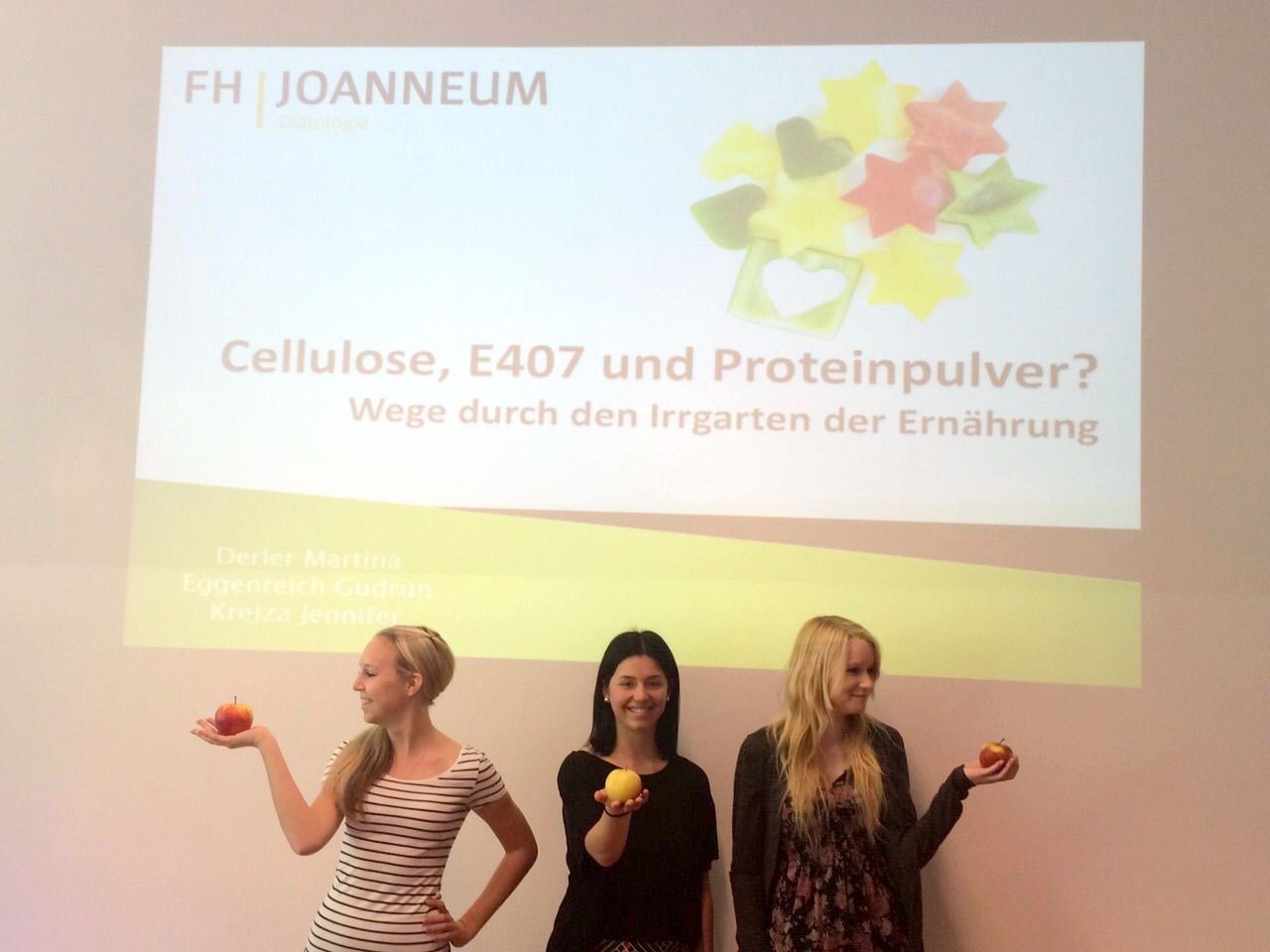 Interactive Workshop at FH JOANNEUM
Carbohydrates are bad, protein builds up muscles and fat is banned from the menu. What can I give my children to eat? Our students ran an interactive workshop examining this and similar questions as part of a series of lectures on parenting offered by ZWEI UND MEHR, an information initiative for families. The students organised an informative and interesting event that included practical tips and experiments. The Department of Family and Adult Education of the Styrian Government and the Children's Office were project partners.
Duration: one semester
Semester: 4th semester
Project manager / contact: Daniela Grach, Msc.
Enjoyment, sensory perception and slow food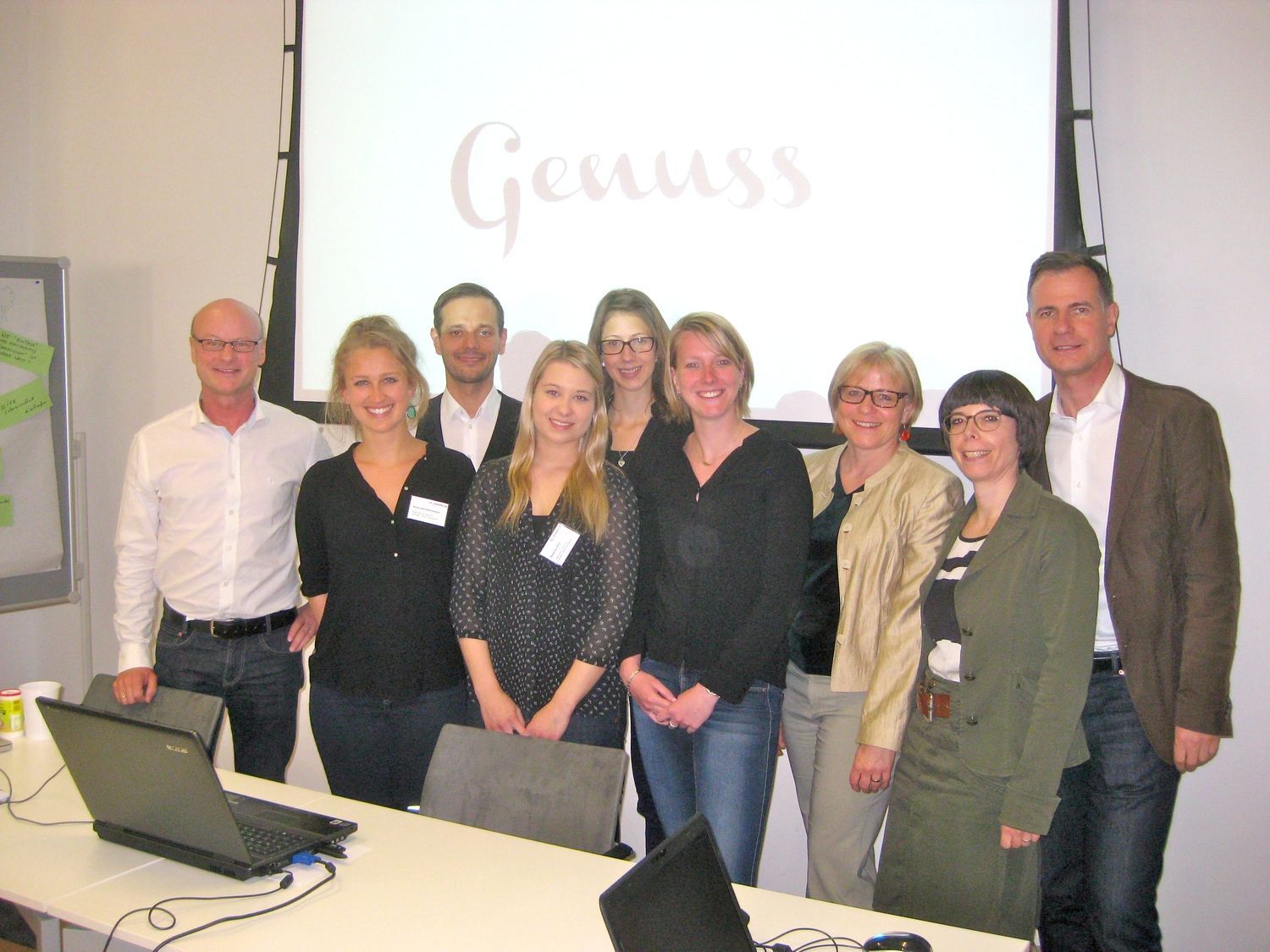 The Team of FH JOANNEUM met staff from Parktherme Bad Radkersburg.
What influence do our senses have on our eating behaviour? What is enjoyment? These are just two of the many questions that our students asked the employees at the Parktherme health spa in Bad Radkersburg. During the workshop it was made clear just how much we allow sensory factors to influence us in relation to food.
The participants took part in a lot of adventurous experiments. They tasted brown vanilla pudding and red apple juice and they explored gelatine and porridge blindfold by feel. They also discovered the importance of the nose in tasting cinnamon and found out whether or not they are "thermal tasters". These are people who experience a taste when they perceive heat and cold in the mouth.
Duration: one semster
Semester: 4th semester
Project manager / contact: Daniela Grach, Msc.
Eat for Fun Workshop – let's do it!
The sugar guessing game was part of the project.
This workshop run by our students aimed to benefit both parents and children. Fun and games were used to win the children over to healthy eating. One of the workshop's themes was the right approach to sweets and sweet drinks. This involved activities including a sugar guessing game. The parent workshop dealt with subjects such as portion size, the food pyramid and individual nutrients in food. At the end the students and families together prepared a healthy snack for all workshop participants to enjoy.
Duration: one semester
Semester: 5th semester
Project manager / contact: Anna Auer, BSc.
Read next:
Semester Abroad
During the semester abroad at one of our partner universities you will gather intercultural experiences and expand your horizon. Here you can find more information about requirements and how it all works.