Institute of
Physiotherapy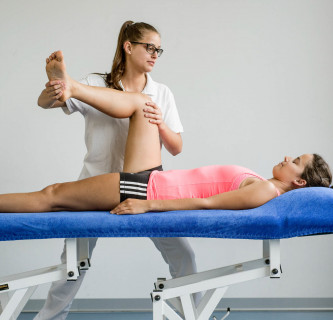 "Every day, we face the challenge of combining theory, science and practice to ensure that our graduates are ideally prepared to tackle the challenges of everyday working life on the fast-paced health market. We attach great importance to skills of communication and working in multi-professional teams."
In addition to the training of therapists, the Institute of Physiotherapy also focuses on research and development in the field of innovative therapeutic approaches in cooperation with national and international partners. Our partners range from educational institutions and established companies through to start-ups in the technology and health sectors. Together we aim to expand the possibilities offered by physiotherapy to create added value for therapists, and even more importantly for patients.
The Institute engages in multidisciplinary collaboration within the Department of Health Studies at FH JOANNEUM. The institutes of the Department focus on topics such as obesity, exercise, healthy ageing and health literacy. The Department has forged networks with relevant stakeholders in the health sector to establish itself as a recognised partner for achieving health objectives in Styria as also at the national and international level.
Therapy Innovation Lab
The Therapy Innovation Lab was established to pool the expertise of the Institute of Physiotherapy in the fields of motion analysis, innovative technologies, telerehabilitation and health literacy. The Therapy Innovation Lab sees itself as an interface between innovative therapeutic approaches and the needs of patients and therapists in order to exploit the opportunities offered by digitalisation in the physiotherapy setting.
Key areas of the Therapy Innovation Lab
Motion analysis: Precise capturing of human movement patterns in the motion analysis lab
Innovative technologies: Development and evaluation of innovative therapies
Telerehabilitation: Bridging spatial and temporal divides in therapy
Health literacy: Health competence and knowledge transfer in a digital world
Research areas
Development and evaluation of evidence-based innovative diagnostic and therapeutic procedures
Health services research for the healthcare professions
Innovative training concepts for the healthcare professions
Health promotion and prevention strategies