Lab
Therapy Innovation Lab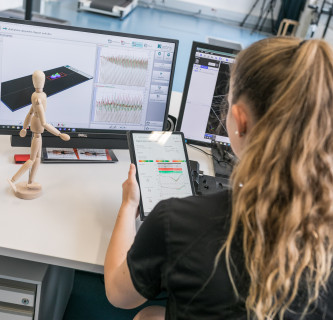 Digitalisation and new technologies have now found their way into almost every area of our lives. The changes they bring are also transforming physiotherapy, creating both opportunities and challenges for therapeutic practice and the exchange of information with patients. The Therapy Innovation Lab sees itself as an interface between new therapeutic approaches and the needs of patients and therapists in order to exploit the opportunities offered by digitalisation in the physiotherapy setting.
The Therapy Innovation Lab focuses on the following areas:
Motion analysis: Motion analysis is designed to precisely analyse human movement patterns. State-of-the-art equipment is used for carrying out biomechanical analyses and for investigating new technologies.
Innovative technologies: The expertise and infrastructure provided by the Therapy Innovation Lab enable the development and evaluation of innovative therapies.
Telerehabilitation: Telerehabilitation practices allow therapy to bridge spatial and temporal divides. Its goal is to support treatment and improve therapeutic outcomes.
Health literacy: This includes all areas of evidence-based therapy and aims to increase patient health competence and knowledge transfer using digital approaches.
Motion analysis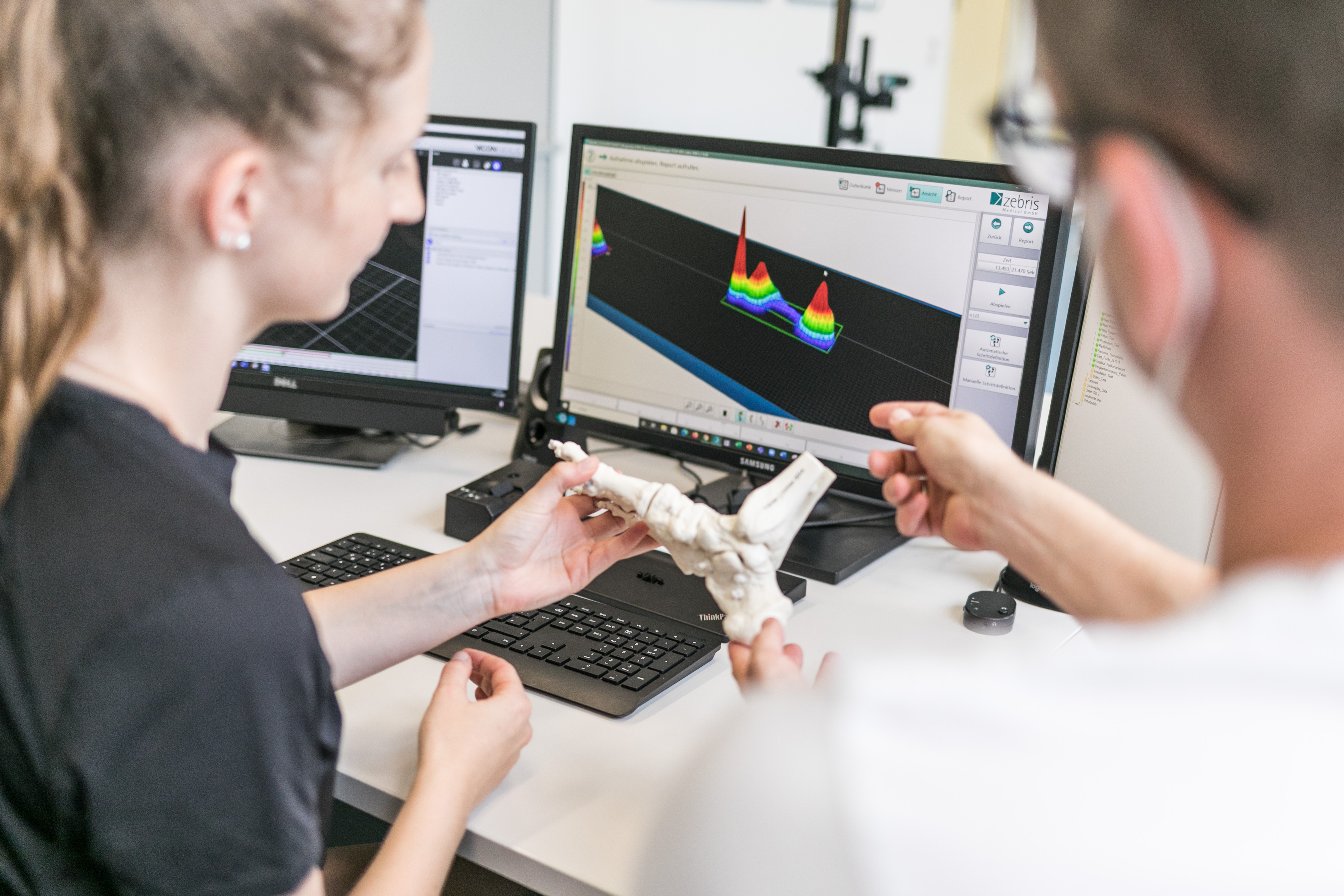 The analysis of human motion forms an integral part of physiotherapy by detecting and documenting changes and deviations in movement patterns. Specific motion analysis systems are applied to obtain objective data required for answering scientific questions in this field. The Motion Analysis Lab at the Institute of Physiotherapy is the centre of the Therapy Innovation Lab. It provides the infrastructure and expertise necessary to explore complex questions related to motion analysis.
Both kinematic and kinetic aspects of movement and muscle activity need to be assessed for a comprehensive analysis of movements.
Kinematics: Kinematic measurement systems capture spatial movements and provide insight into how a movement is performed. The system measures the positional changes of segments and the angular changes of joints as also the duration of gait phases. These data are measured using 3D motion capturing systems or acceleration sensors.
Kinetics: Kinetics describes the forces acting on the body during movement. This may include pressures under contact areas, or forces and torques acting on joints. Kinetic motion analysis is carried out using force and pressure plates.
Muscle activity: Electromyography systems measure electrical potentials which provide information about the neurological activation of muscles. This enables scientists to determine at which time the different muscle groups are active during movements.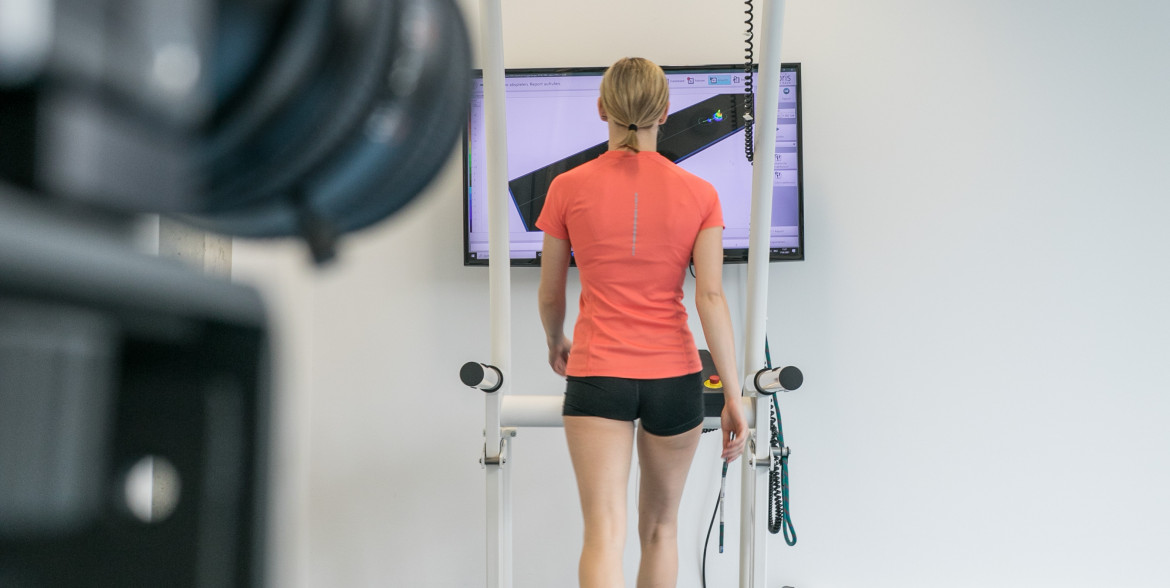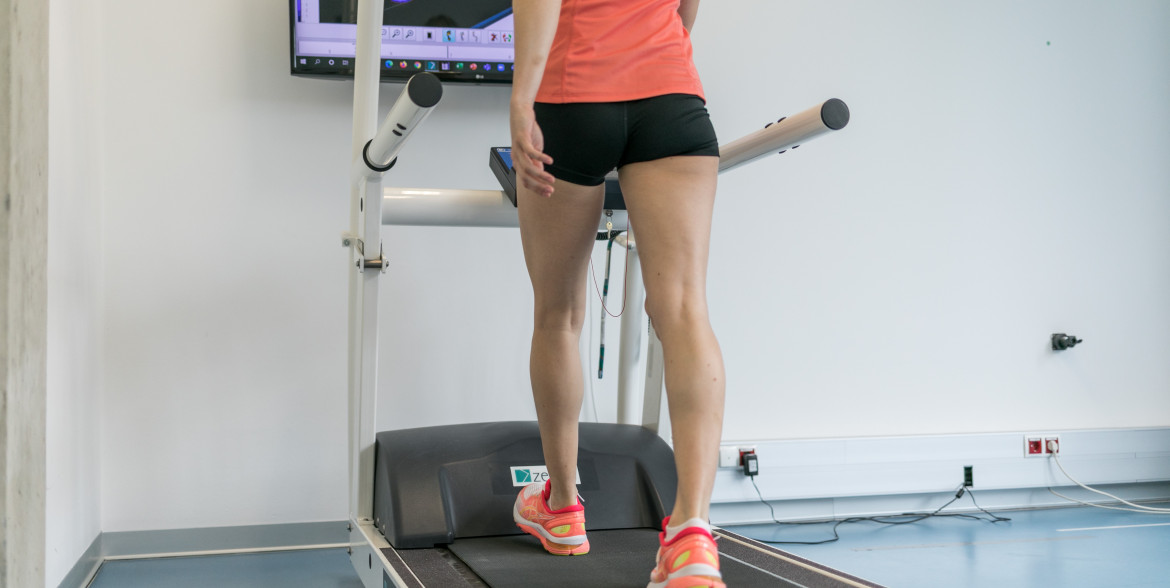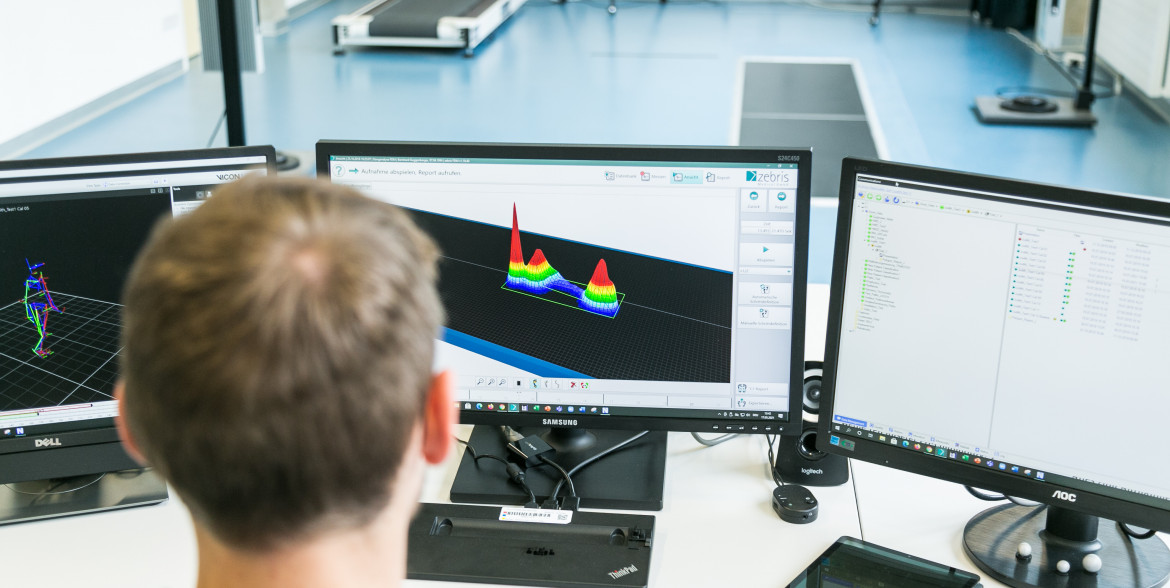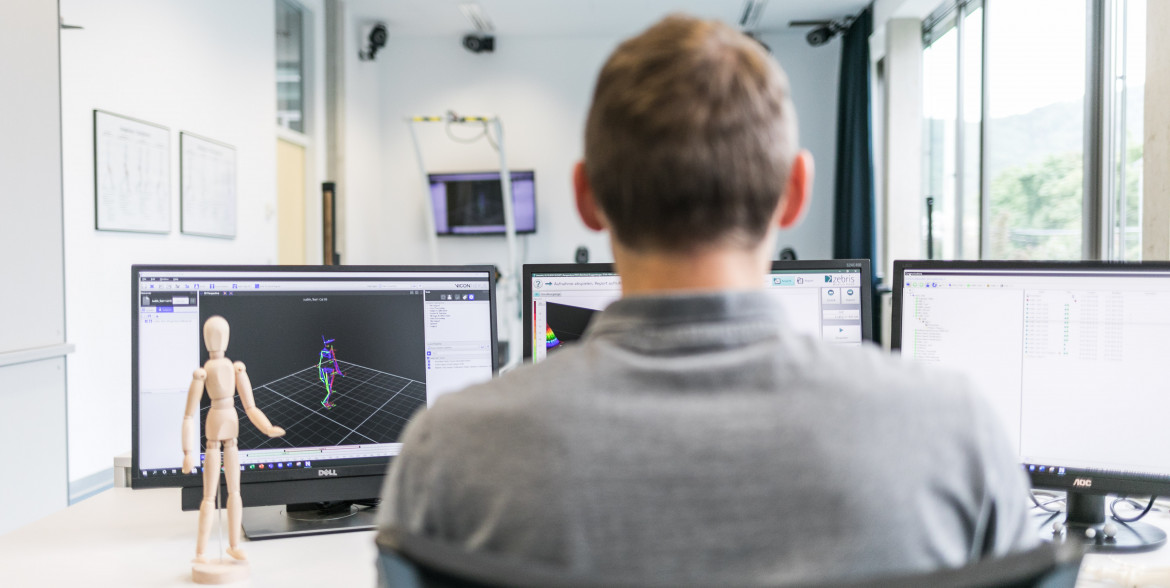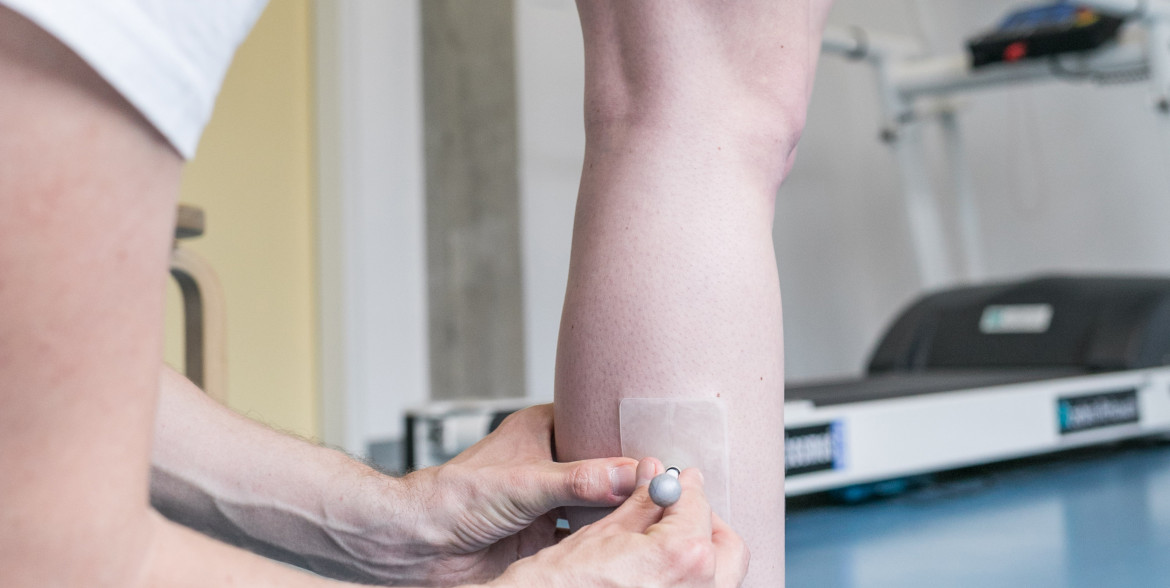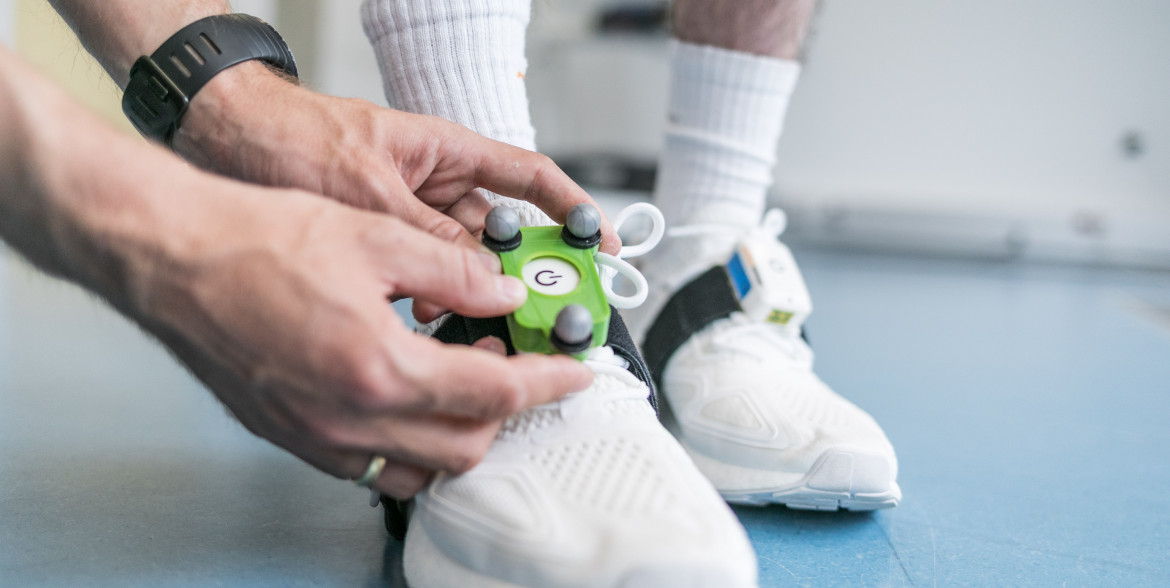 Infrastructure
The following systems are available for motion analysis:
3D motion capture system with 12 cameras (Vicon)
High-speed video cameras
Acceleration sensors
Treadmill with integrated force plate: Zebris FDM-T system with h/p/cosmos mercury treadmill
2 force plates: Zebris FDM 1,5
6-channel EMG system (myon)
Various software applications for measuring and evaluating motion analysis data
Use in teaching
Students of the Physiotherapy programme gain early insight into the technical capabilities of motion analysis systems and acquire first-hand experience in using these systems. Students can use the lab for their projects, thus acquiring fundamental specialist knowledge of using instrumented motion analysis systems in the sixth semester. The laboratory is also available for studies and analyses conducted as part of research and development projects.
Telerehabilitation
Telerehabilitation is understood to mean all examination and therapy practices which can be conducted irrespective of time or place using a variety of different technologies. This creates entirely new therapeutic applications and approaches. The Therapy Innovation Lab incorporates the know-how needed to develop concepts and support product development, and enables qualitative and quantitative data gathering in the telerehabilitation field.
Innovative Technologies
The opportunities for applying new concepts and technologies in physiotherapy are many and varied. The Therapy Innovation Lab is the interface between therapy and technology, enabling the development and evaluation of new applications in a whole range of therapeutic fields. Examples include the sensor recording of different parameters for monitoring courses of treatment, and gamification to increase patients' motivation to exercise. The core focus lies in expanding the potential range of therapeutic treatments and improving patient care.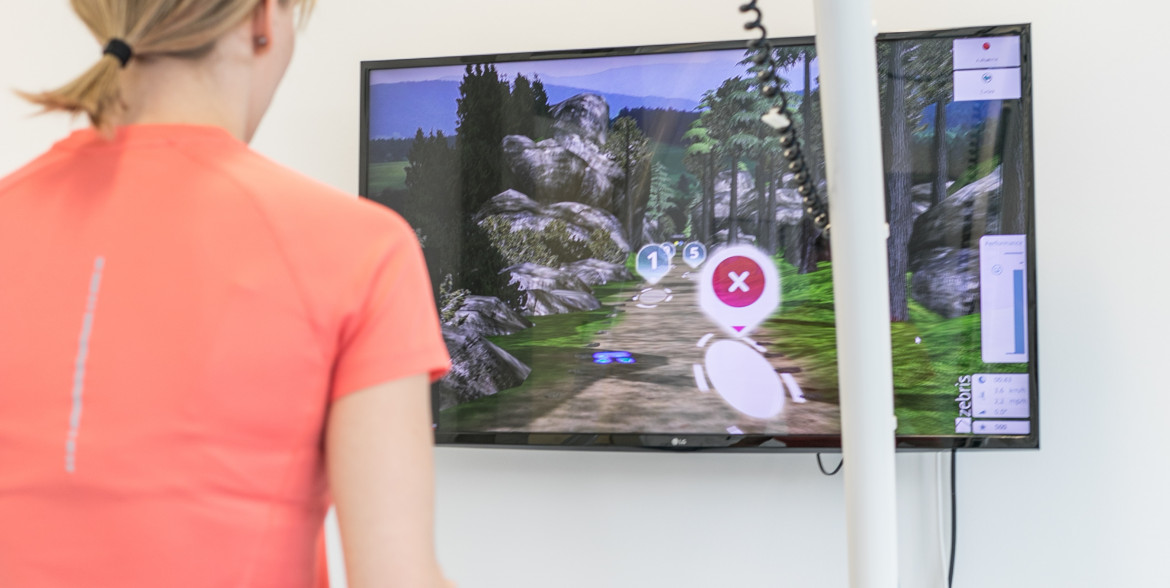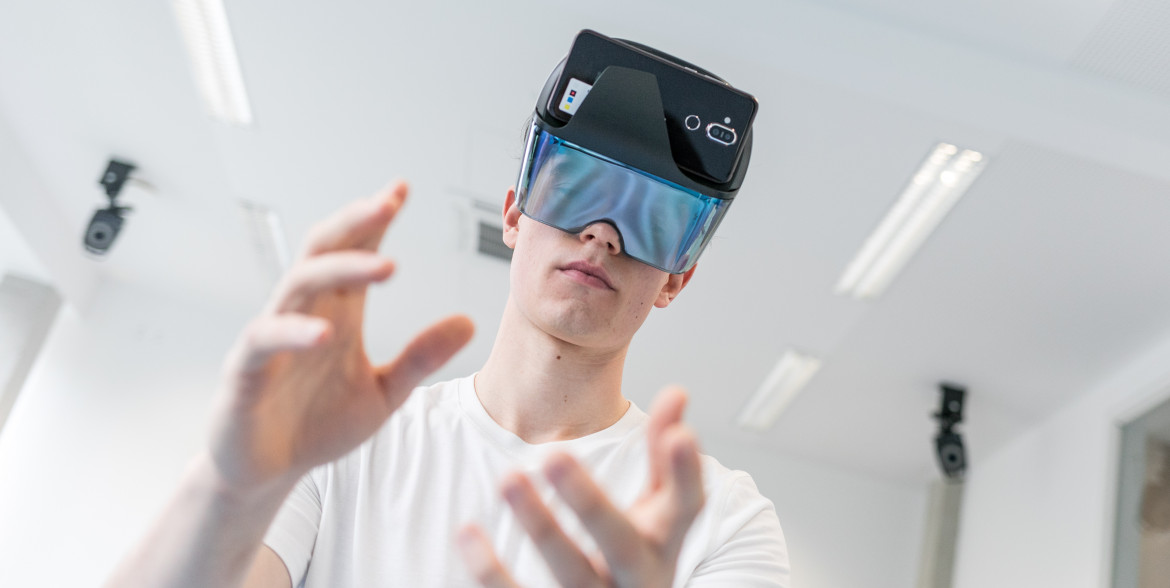 Health Literacy
Health literacy is the knowledge, motivation, and ability to find, understand and apply relevant health information. In the fields of health promotion, prevention and patient care, health literacy is the basis for making decisions which will preserve or improve the quality of life and health. Progressive digitalisation makes it necessary to consider and apply the concept of health literacy using innovative therapies in a digital context. The Therapy Innovation Lab addresses all aspects of health literacy, and particularly the various forms of its digital implementation.
Interdisciplinarity
The Therapy Innovation Lab of the Institute of Physiotherapy follows an interdisciplinary approach in its research projects. It closely collaborates with other institutes of the FH JOANNEUM Department of Health Studies and other disciplines as well as with partners from industry and academia.
Key research areas