Services
Intercultural Skills Certificate Students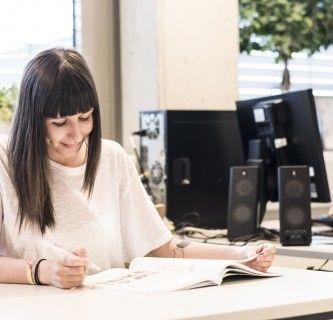 At FH JOANNEUM, we offer students many opportunities to acquire intercultural skills during their courses. The Intercultural Skills Certificate (ISC) is a certificate which testifies that you have acquired intercultural and language skills during the course of your studies and acts as an additional qualification.
Intercultural competence and an understanding of interculturalism are increasingly becoming key qualifications for future careers. Both signify confidence in your ability to operate in different cultural and linguistic settings, to think inclusively and to feel secure in the role of "being foreign". Intercultural skills also include a solid level of fluency in foreign languages, a great talent for observation, and openness to people from different cultural backgrounds.
How do I get my ISC?
In order to be awarded the ISC from FH JOANNEUM, you must be a student or exchange student at FH JOANNEUM and demonstrate skills in four areas of competence (KM1-KM4). These four competence modules are covering a wide range of skills in an intercultural context and should be completed during your studies at FH JOANNEUM. In order to complete all four modules on time, we recommend that students prepare for the ISC at the start of their studies.
Below you will find a checklist and an overview of the four modules.
Once you have completed all modules, simply submit your documents online.
An overview of the competence modules
Module 1 (KM1): Language skills
Language fluency is an indispensable extra qualification in this era of globalisation, both during your studies as well as for your subsequent career. In order to obtain the ISC, students need to provide good knowledge in one foreign language and basic knowledge in another foreign language.
Foreign language one: min. level B2
Foreign language two: min. level A2 (alternative: participation in at least 4 language courses with at least 8 ECTS in total)
Required proof:
* Language certificate / Confirmation
Valid certificates / confirmations:
* International valid language certificates (e.g. TOEFL, IELTS, ÖSD), not older than 3 years
* OLS confirmation (for Erasmus students and trainees)
* Secondary school leaving certificate
* Confirmation of language courses (e.g. at CAMPUS LinguaNEUM)
* Confirmation of FHJ language teachers
Tip:
FH JOANNEUM offers a wide variety of language courses. Courses are also offered in German as a foreign language (DaF) for students whose mother tongue is not German. You'll find the current course programme here.
Module 2 (KM2): International experience abroad
A study abroad or a work placement abroad offers an excellent opportunity to deepen and extend your subject knowledge and language fluency. You will not only get a new perspective on your own subject of study, you will also improve your intercultural skills. Study semesters and work placements (minimum 2 months) spent abroad can be counted towards the ISC.
Required proof:
* Confirmation of Stay
* Experience Report KM2 (template at the end of this page)
Tip:
The International Relations Office is happy to advise you about these opportunities and on financing a stay abroad.
Module 3 (KM3): Intercultural courses
This module encompasses lectures on intercultural competence of at least 2 ECTS within your studies. Both compulsory subjects as well as elective and optional subjects count towards the qualification. At least two intercultural courses have to be completed to be counted towards the ISC: Intercultural courses can be taken at the degree programme, at a partner institution or at the International Relations Office.
Required proof:
* Transcript of Records or Confirmation of Participation
* Experience Report KM3 (template at the end of this page)
Tip:
Here you can find current intercultural courses offered by the International Relations Office within the intercultural focus R.U.D.I.
Module 4 (KM4): Intercultural and social involvement
You can also gain international experience here at FH JOANNEUM! There are many opportunities at FH JOANNEUM to become involved in an intercultural environment. One such opportunity for intercultural involvement is active participation in the Tandem program . Involvement in an international student organisation (e.g. AIESEC, IAESTE or ESN) and voluntary activities are also credited.
Option 1: Intercultural and social involvement at the FH JOANNEUM
For example:
* Tandem programme
* Volunteer work at the International Relations Office
* and many more
Option 2: Intercultural and social involvement at another organization
For example:
* Sindbad Graz - Mentoring programme for youths * Lebenshilfe
* ESN
* Lernhilfe Rotes Kreuz
* AIESEC
* IAESTE
Required proof:
* Confirmation of Participation
* Experience Report KM4 (template at the end of this page)
Application for the Intercultural Skills Certificate