Research
Vision & Mission
FIT4BA research and innovation centre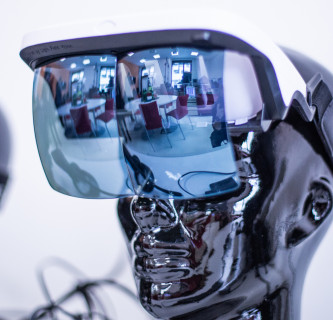 Creating an application-oriented research and innovation centre at FH JOANNEUM is the main goal of the "Fit4BA – Fit for Big Data and Artificial Intelligence" research project. We have a threefold vision: We aim to support companies in venturing their innovative ideas, conduct the relevant research and integrate our experience into practice-oriented teaching. The project is funded under the COIN programme of the Austrian Research Promotion Agency FFG.
FH JOANNEUM combines a wide range of disciplines under one roof. The Fit4BA team makes use of this strength and aims to work in an interdisciplinary setting and across institutes: Big data and artificial intelligence research can benefit almost every industry. Such projects make sense wherever data is generated – be it in aviation, banking or smart mobility.
Innovative industrial projects
Fit4BA pursues a learning-by-doing approach: We familiarise ourselves with the tools by implementing specific pilot projects in the field of big data and artificial intelligence, which have enabled us to gather relevant know-how in various industries. These pilot projects are supplemented by industrial projects, which means that the research centre will ultimately be self-financing and not require public funding. We attach great importance to innovation in our research projects. Our services are not off the peg: the projects must be innovative for us or the industry and add to our knowledge.
Networking
Networking is central for FIT4BA:
with departments of FH JOANNEUM
with companies and the business community
with scientific partner institutions
Networking across the FH JOANNEUM departments is important to us. We also want to work closely with the business community and individual companies. This is the only way to ensure that our services reflect the economic benefits of the companies. Furthermore, we encourage scientific partnerships. This allows us to stay innovative and benefit from each other.
Integration into teaching
Practice-oriented teaching is an essential feature of FH JOANNEUM. FIT4BA therefore also strives to incorporate the latest findings and innovations from various industries into teaching practice. This way we ensure that our degree programmes are cutting edge, benefiting both our teaching staff and students. We make it easier for students to enter the world of work, as they can gain important experience as well as network while they are still studying.