Department of Engineering
Industrial Mechatronics
After Graduation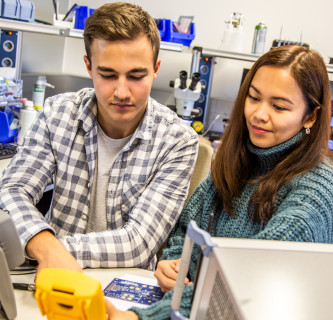 Specialist interdisciplinary expertise in high demand in the high-tech sector
Graduates of the course are highly sought after in the world of work with their specialist expertise in mechanical engineering, electrical engineering and IT.
They are able to interlink this knowledge in an interdisciplinary manner and have the ability to view a system as a whole. They design mechatronic facilities or units, carry out calculations and simulations and select the appropriate components. They are also responsible for the specification, development and testing of microcontrollers, control systems and industrial robots.
Industrial Mechatronics graduates are able to ensure the smooth integration and automation of components and software for mechatronic systems. They analyse operational data from the systems and optimise the associated processes. They integrate technological innovation into existing systems and develop new facilities. Their specialist expertise is enhanced by a knowledge of project, requirements and quality management.
Career paths
Our engineers are sought-after experts in the industry. They take on a wide range of activities in the design, development and commissioning of industrial mechatronic systems. Professional fields also open up in the development of new components and the implementation of digital production processes.
Graduates may be assigned the following tasks:
Designing production facilities
Functional development of mechatronic components and systems
Prototype design and product development
Configuration and parameterisation of automation systems
Technical calculation and analysis of mechatronic components and systems
Component testing and result analysis
Coordination of component and system tests
Commissioning of control devices in mechatronic systems
Plant automation
Plant commissioning
Scripting of process and testing programmes
Involvement in the optimisation of industrial process and manufacturing facilities
Project planning and support in the area of industrial mechatronics
Developing simulations for production optimisation
Fault analysis and location
Setup and commissioning of testing platforms
Development of special machinery
Sensor development
Graduates are qualified to work in the following roles:
Automation engineer
Electronic development engineer
Mechatronic system designer
Software test engineer
Safety development engineer
Commissioning engineer
Project engineer
SPS programmer
Control development engineer
Analysis and validation engineer
Maintenance engineer
Measurement engineer
Testbed engineer
Service engineer
Graduates of the Bachelor's course also have the option to enrol on a relevant Master's programme at a university or university of applied sciences.