Department of Engineering
Industrial Mechatronics
My Studies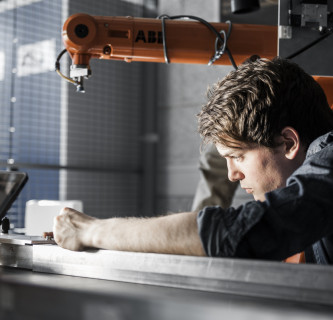 Company Internship
The company internship of this co-op programme is organised as a training partnership and regulated by a training agreement. The content is based on the skills acquired on the course in order to consolidate the core topics of the curriculum in a practical environment. Students find their own training companies.
The internship forms an integral part of the course: from the second year onwards, theory courses at FH JOANNEUM alternate with practical work at an industrial company at three-month intervals. The training objectives of these practical phases are to be agreed with the university. Students acquire extensive practical experience as well as receiving appropriate financial remuneration and are employed by the company throughout this whole period from the third to the sixth semester. Of course, it is also possible to spend some or all of the internship at a company abroad.
The sessions at FH JOANNEUM and work at the training company alternate as follows:
Students spend a four-week period at the company at the start of the third semester. This provides a chance to get to know the training company, pass through all relevant corporate units and understand the core processes and their interaction.
After this point, in-person teaching at the university alternates with internships at the company in blocks of three months at a time. During these blocks, students pursue their specified learning objectives at the training company.
After completing the classes of the sixth semester, students undertake a two-month internship at the training company and write their Bachelor's thesis. Attendance at the university is reduced to two months in the sixth semester. This period involves thematic and organisational preparation for the Bachelor's thesis. The work at the company is set out in the company training plans and will be determined for each stage of the internship in agreement with the student, the internship supervisor and the course lecturer.
An additional core element of overlapping theory and practice is the Bachelor's thesis which is to be written at the company. Here too, students are supervised by both their internship supervisors and course lecturers.
Training partners
Many Styrian companies support the co-op programme by acting as training companies, where students are employed part-time from the second year onwards. Examples include Pankl Racing Systems, AVL List, Andritz AG, MAGNA Steyr, Voestalpine and AKKA Austria.
Read next:
Semester Abroad
During the semester abroad at one of our partner universities you will gather intercultural experiences and expand your horizon. Here you can find more information about requirements and how it all works.