Department of Engineering
Industrial Mechatronics
My Studies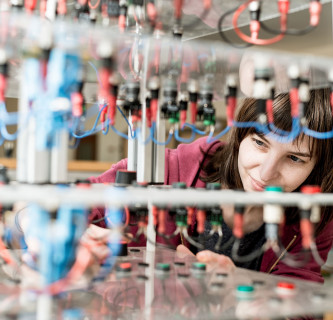 What is Industrial Mechatronics?
Industrial manufacturing and production systems combine mechanics, electronics and software and rely on intelligent high-tech components. Interdisciplinary understanding and technical expertise are required in order to design and commission these systems and develop new components.
Mechanical engineering, production technology, computer engineering, electrical engineering and electronics are the pillars of industrial mechatronics. The course provides a wide range of information in these core subject areas – including new technologies. You will consolidate and further develop your knowledge of applied mechatronics in practical laboratory sessions at the university. From the third semester, you will carry out specific industrial tasks at a training company. This provides a perfect combination of theory and practice.
In tune with the times: the elective subjects of robotics and digital image processing complete your specialist training, and lectures in technology management and English complement your technical expertise. During the sixth semester, you will write your Bachelor's thesis while you complete the final practical phase at your training company.
As a mechatronics engineer, you will apply your creativity and expertise to devise innovative technology solutions. You will integrate mechanics, electronics and software to ensure the optimal functioning of industrial mechatronics systems. One core aspect is to incorporate the testing requirements for control and industrial robotic software into the development process. Graduates of the Industrial Mechatronics course will therefore act as an interface between the individual disciplines as well as between development and application.
What will I learn?
The focus of the Bachelor's course in Industrial Mechatronics is on industrial production and manufacturing technology. You will familiarise yourself with the fundamental elements of production and control technology as well as with the associated methods and tools such as computer-aided manufacturing. You will also focus intensively on electronics, drive technology and communication technology, which are playing an ever-increasing role in modern production processes, and on the testing of mechatronic and automotive systems.
Tip:
The co-op curriculum means that the mandatory internship and the Bachelor's thesis are completed at a training company, allowing students to apply the knowledge, skills and competences they have acquired in a real-world industry setting.
Mechanical engineering and production technology
The focus here is on production processes as part of industrial manufacturing and production operations. You will explore manufacturing processes and the machinery, equipment and facilities involved. You will calculate static and dynamic loads which play a key role in construction design. You will also analyse thermal processes in production technology, incorporate hydraulic and pneumatic systems into production facilities and learn about various materials.
Electrical engineering and electronics
This core area addresses electrical networks, drive technology and elements of electrical energy supply. You will measure electrical and non-electrical values and evaluate the measurement results. You will learn about how electronic components are applied in mechatronic systems as well as dealing with electrical drive systems and power electronics. Furthermore you will apply digital technology, for example by integrating sensors, actuators and binary signals in electronic control systems.
Computer engineering
This core field focuses on the set-up, functioning and use of computer systems, microcontrollers and industrial controls. You will develop algorithms, implement them in programming language and program simple tasks in a microcontroller system. Software testing is also a component of the lab exercises. You will learn the theory and practice of how to implement intelligent industrial communication systems in mechatronic systems.
Applied mechatronics
The interaction between mechanical, electronic and software systems in production processes is the core field of applied mechatronics. You will learn how these systems are modelled and applied in computer-controlled manufacturing processes. You will also analyse mechatronics systems using simulations. You will be able to parameterise and commission controllers as well as learning about the norms and standards in industrial mechatronics.
Technology management
This core area addresses business and organisational issues. You will learn the basics of industrial business management, investment cost accounting and business law. You will acquire the project, requirements and quality management skills required for designing mechatronic systems.
Co-op structure
The Bachelor's course in Industrial Mechatronics is organised as a co-op programme to maintain a balance between study and work. This allows established specialists as well as young people to pursue their studies along with a part-time job and apply their knowledge in a practical setting. The first two semesters are spent full-time at the university. From the third semester, the co-op structure allows you to further develop your knowledge and skills at a training company within a practical industrial setting.
Read next:
Curriculum
To make your education as wide-ranging and practice-oriented as possible, the course content is divided into modules of different subject areas. Here you can find an overview of all modules and the associated courses.