Institute of
Dietetics and Nutrition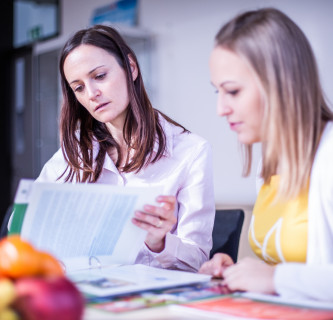 "Research-led teaching at the Institute of Dietetics and Nutrition covers the scientific fundamentals and the requirements of society and the economy. The interplay of theory and practice is a key element. We strive to provide our students with the best possible conditions for starting out in their professional life or continuing onto a Master's course, based on broad and subject-specific training".
Research is carried out in multidisciplinary collaboration with other institutes of the Department of Health Studies. The degree programmes focus on topics including obesity, exercise, healthy ageing and health literacy. We operate a state-of-the-art Health Perception Lab (HPL) for applied sensory research, which is unique in Austria. The focus is on sustainable health promotion, prevention and therapy.
The Department of Health Studies has forged networks with relevant stakeholders in the health sector to establish itself as a recognised partner in achieving health objectives and to gain visibility in Styria as also at the national and international level.
Research areas of the Department
Development and evaluation of evidence-based innovative diagnostic and therapeutic procedures
Health services research for the healthcare professions
Innovative training concepts for the healthcare professions
Health promotion and prevention strategies
Development of special analytical methods in biomedicine and industrial pharmaceutics.
Fields of research at the Institute of Dietetics and Nutrition
The applied research carried out at the Institute of Dietetics and Nutrition primarily focuses on concepts for increasing people's nutritional skills. Healthy eating habits enable people to take responsibility for their own everyday nutrition in an enjoyable way.
Nutritional concepts for different ages and groups – focusing on socio-cultural distinctions
We are researching the basis for concrete measures to increase the quality of nutrition in risk groups taking particular account of socio-integrative and cultural aspects. The aim is to develop specific contributions to life-long learning for holistic health.

Measurement of body composition
Based on the 'gold standard' of accuracy, we take measurements to determine body composition and then determine the proportions of muscle, fat and water using state-of-the-art equipment. The results are then interpreted and used as a basis for developing nutritional concepts tailored to individual target specifications.

Development of sports nutrition concepts
We develop customised recommendations and concepts tailored to the kind of sport, performance level, individual goal and nutritional preferences. The aim is to improve performance, accelerate recuperation, prevent nutrition-related problems and support the immune system – both in training and in competitive situations.

Sustainable nutrition
A sustainable approach to nutrition takes account of the ecological, economic, social and health aspects of the overall nutrition system. This involves recognising and avoiding any negative side effects of the relevant activity on the system as a whole and promoting positive effects. Scientific findings are then applied to explore measures and concepts for various target groups and settings, with the aim of achieving sustainable nutrition at both a behavioural and relationship level.

Health-oriented sensory research
Multiple international studies have proven the connection between the cultivation of taste in childhood (pre and post-natal) and the development of obesity as well as the preventive potential of positive sensory perception of healthy food. The Health Perception Lab (HPL) is used for health-related sensory research in the field of obesity prevention and treatment. The focus is on analysing the cultivation of taste in children and on developing and evaluating relevant products and programmes. We also develop methods and concepts, such as sensory training, which can be applied in the prevention and treatment of other disorders such as swallowing and eating disorders.

Public Health Nutrition
This field of research links knowledge, skills and experiences which are of fundamental significance in public health. This integrated knowledge is applied to identify nutrition-related health problems in different groups of the population. The focus is on the role of nutrition in relation to prevention and health promotion and on the planning, preparation, implementation and evaluation of nutritional programmes and other nutritional offers in health promotion.