JOANNEUM ACADEMY
knowledgefactoryIWI
The continuing education platform for the transfer of knowledge from university to practice.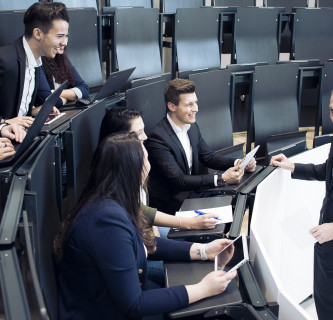 Employees of the Institute of Industrial Management at FH JOANNEUM are offering their expertise as facilitators and drivers of corporate and personal professional development. In doing so, the knowledgefactory is facilitating the transfer of knowledge from university to practice.
Make use of our expertise
Use this opportunity to receive current and relevant inputs on a variety of topics, either live in the Smart Production Lab or on site at your company – and always tailored to your needs.
Use our expertise in business
The Future of Work
MMag. Dr. Sabrina Romina Sorko
The smart workplaces of the future combine the strengths of human and machine to create flexible powerteams.
Guide employees through the I4.0 change process
Enable capacity building
Use the full potential of augmented and mixed reality assistance systems
Service Engineering
DI Dr. Herbert Michael Richter
From practical analysis of potential smart services to company-specific service innovation processes.
Use the new technologies for smart services
Identify the opportunities provided by practicable methods and tools for service engineering
Controlling / Industrial Business Management
FH-Prof. Mag. Dr. Martin Tschandl
Optimise business management in an industrial environment along four domains:
Digital controlling, for example robotic process automation
Cost engineering for manufacturing companies
Strategic and roadmap development for digitalisation
Location management and incubators for start-ups
Supply Chain Management
DI (FH) Uwe Brunner
SUPPLY CHAIN CAPTAIN ® is the defining principle for all supply chain managers, logistics experts and purchasers.
Improve your transport processes along the supply chain
Optimise your in-house logistics
Digitalise your purchasing and procurement processes
Use our expertise in technology
Digital Shopfloor
DI Dr. Barbara Mayer
We are driving the digitalisation of production with innovative solutions, ranging from digital retrofit to predictive maintenance.
Digital retrofit enables IoT capability at field level
Real-time visualisation of machine data
IoT reference architectures and IoT use cases
Industrial Engineering
DI Dr. Wolfram Irsa, CFPIM, CIRM
Industrialisation of Industry 4.0 technologies – seamless integration of manufacturing processes.
Additive manufacturing – from the model to the final product
Advanced production technologies with a focus on precision machining
Bring models from 3D scan to augmented reality
ERP / MES
DI (FH) Ernst Peßl
Vertical and horizontal integration using ERP as the communication hub – from real-time data to advanced analytics.
Bidirectional integration of ERP/MES and shopfloor
Use in-memory systems for real-time monitoring and reporting
Integrate sensor data into your business system
Benefit from our Smart Production Lab
Makerspace
Test and realise your ideas at our FabLab in Kapfenberg: The Makerspace at the Smart Production Lab gives you the opportunity to gain hands-on experience in rapid prototyping and to build your own prototypes. The facilities are open twice a month and can be used without prior appointment. The FabLab equipment in Kapfenberg includes 3D printers, a laser cutter, vinyl cutter, sandblaster, CNC lathe, CNC milling machine, vertical band saw and workstations for assembly, soldering and CAD drawing.
Digitalisation strategy – your options
Digital Readiness Check: Identify your digitalisation potential within one day
Lean Industry 4.0 Roadmap: Gain a first insight into concrete I4.0 measures in a specific field of your company
Comprehensive Industry 4.0 Roadmap: Conduct a comprehensive analysis of a specific field, from analysis and process survey to the development of measures and tools
Tours of the Smart Production Lab
Discover the opportunities of digital transformation along the value chain based on different use cases in a two-hour lab tour. This will also give you the chance to engage in discussions with our experts. Visit the Smart Production Lab.
Individual workshops
You're interested in deepening your expertise in a specific industrial topic or offer your employees a bespoke workshop? Contact us to book a workshop tailored to your needs.
Tip:
All seminars, courses and workshops can be run either on FH JOANNEUM premises or as internal company events. Please contact us for more information.