Smart Production Lab
Areas of research
Applied research for tomorrow's industry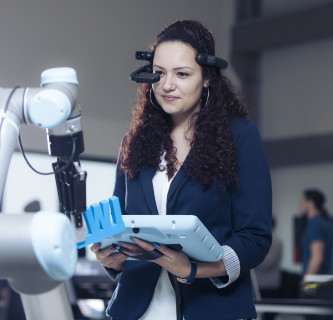 The Smart Production Lab's vertical and horizontal IT integration offers a practical approach to investigating tomorrow's digital production. A variety of stations present use cases which demonstrate how businesses can use digitalisation to boost productivity.
Practical research
One focus at the Smart Production Lab is the interdisciplinary combination of horizontal and vertical IT integration, investigating the opportunities offered by digitalisation. The underlying idea is to use stations as a means of presenting the potential applications for digitalisation across a company's individual departments. This means that data from suppliers through to customers (horizontal integration), and from the digital 3D drawing through to production, logistics and reporting (vertical integration) can be automatically collected and optimally used.
Use cases
The various stations in the Smart Production Lab are organised according to horizontal and vertical IT integration. Working groups at the Institute of Industrial Management have developed use cases for each station, representing either 'Advanced' or 'Research' levels of development. The Advanced level includes solutions which are already being implemented in many large industrial companies, but not yet by Austrian SMEs. They constitute the first expansion phase at the Smart Production Lab at FH JOANNEUM Kapfenberg. The Research level goes beyond the state-of-the-art and includes use cases which are new even for advanced enterprises, and will be studied at the Institute of Industrial Management in the future.
Strategic focus and research fields