Department of Media & Design
Visual Communication and Image Management
My Studies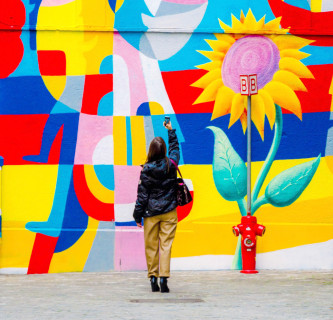 The focal points of the Master Certificate Programme
PHOTOGRAPHY | GRAPHICS | IMAGE THEORY | ILLUSTRATION | SOCIAL MEDIA | VISUAL BRANDING
The Master Certificate Programme in Visual Communication and Image Management places the image at its centre and enables students to deal with socially relevant topics in a personal and creative way using image-focused design. Experimentally generated ideas and concepts are translated into visual form taking into account cultural, social and ecological developments. Visual communication helps to make the message clearer, more convincing and effective.
The part-time programme provides both conceptual and applied design expertise in a creative environment. The three-semester course involves a large percentage of online learning and leads to the academic degree of "Master of Arts (MA)".
"Our programme provides broad-based image competence, which bridges the gap between theory and practice and thus forms a basis for the experimental creation of visual image worlds."
Visual Studies
The programme helps you understand the rules of visual communication. You will become familiar with different theories and models focusing on the image and learn how to best use this knowledge in professional practice.
Graphic Design & Data Visualisation
The production of infographics and other visual information formats is a key element of the programme. You will learn how to produce and use professional graphics for conveying complex information in a form that is easy to understand.
Visual Content Strategies
Different media are made for different uses. You will learn how to make optimal use of social media and other platforms and how to generate a high level of attention using the right media in the right place.
Photo, Video & More
Naturally, visual communication does not work without appropriate media. This is why the programme will teach you how to produce and edit professional image and video materials.
Visual Culture & Ethics
You will learn what makes a good image, how to best communicate visual content and how image language and ethics have developed over time and are likely to develop in the future.
Integrated Visual Communication
The broad-based image competence provided in this course bridges the gap between theory and practice. Experts in visual communication and image management draw on image theories to provide you with the practical and applied knowledge required to acquire additional qualifications in this field. The special thing about this course is its innovative approach: Integrated visual communication is the name of the scientific model which has been developed at FH JOANNEUM and is taught exclusively to the students of Visual Communication and Image Management. The decisive point is that the programme does not concentrate on separate key subject areas, but rather combines the individual visual components – i.e. photos, videos, infographics and more – to create an effective overall appearance. This opens up new opportunities for efficient visual communication, enabling you to generate greater attention for your content. More information about integrated visual communication can be found [here](https://www.fh-joanneum.at/presse/fuer-ein-wirkungsvolles-erscheinungsbild-integrierte-visuelle-kommunikation/
Read next:
Study Mode
The Master Certificate Programme in Visual Communication and Image Management is organised on a part-time basis. Read more here about in-person teaching and e-learning.