Study together, move forward together. This is what we teach and live. We put our students in the spotlight and tell their stories. From the love of their studies to their personal passions and their dream jobs – this is how we are: The community of FH JOANNEUM.
Whether health, technology, management, design, computer science or environment - the topics at FH JOANNEUM are just as colourful and diverse as the personalities of our students and lecturers. In the new community-building campaign "We take our future into our own hands" we show the different facets and faces of the university of applied sciences. The slogan underlines the practical relevance at FH JOANNEUM: As a university, we provide our students with the knowledge and the necessary tools for their professional future - but how they want to shape it also depends on their own motivation. They go their own path; we support them and educate them in the best possible way.
This participatory thought is not only expressed in the slogan "We take our future into our own hands", but also in the campaign itself. We present a total of 12 students from six departments as testimonials: In interviews and blog posts, they give us insights into their studies and what their hearts burn for. In addition, we show contrasts and opposites, and at the same time we create cross-connections between topics which at first sight have nothing to do with each other: Technology and health, for example, or management and sports. The stories and people at FH JOANNEUM are diverse: This diversity is exactly what we want to live!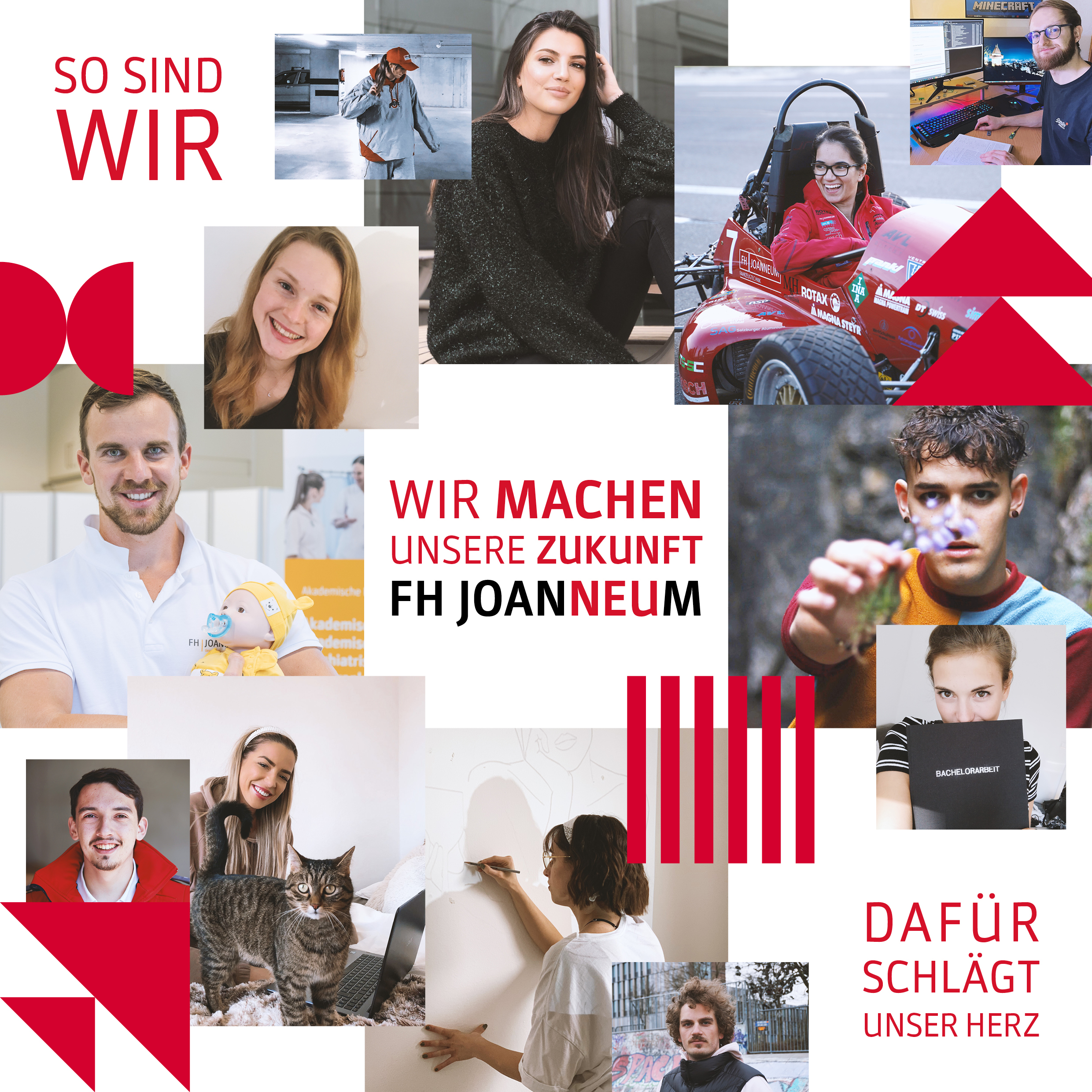 Our 12 testimonials provide insights into their studies.
In order to get in contact with all interested people, the campaign is primarily displayed online on our social media channels Instagram and Facebook. In postings, stories and takeovers, our 60 role models show how varied studying at FH JOANNEUM is. At the same time, we present our more than 50 bachelor's and master's degree programmes and courses and hope that all those who do not yet know what their heart beats for will find it out.
We want to inspire and help you find not only your dream study programme, but also your dream job. If you also want to become part of our diverse, forward-looking and motivated community, then apply now for a study at FH JOANNEUM.
Take your future into your own hands and study what your heart beats for!
Special thanks to our testimonials Franziska Biedermann and Martin Fasching (Health Studies), Hannah Milchrahm and Eiken Nurcelli (Media & Design), Anna Prechtl and Christoph Paier (Management), Sushama Chander and Andreas Zapfl (Engineering), Viktoria Harzl and Andrei Boboi (Building, Energy & Society) and Nina Reisenegger and Lukas Becker (Applied Computer Sciences).