Department of Health Studies
Mass Spectrometry and Molecular Analysis
My Studies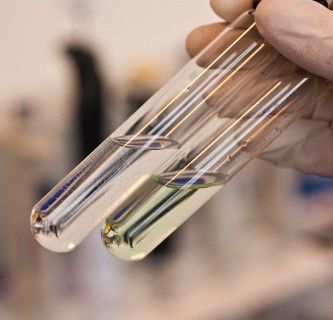 Key subject areas
Academic writing
You familiarise yourself with the core science subjects and find out about the latest topics and trends in the life sciences. Researching, interpreting and understanding scientific publications is the first step towards producing your own research work. Speakers from various disciplines from industry and academic science ensure excellent teaching informed by cutting-edge research.
Bioinformatics
To design experiments you need knowledge of bioinformatics. We therefore make students aware of the important role bioinformatic analyses play in biomedicine and in chemical analysis. Students learn to use the tools of bioinformatics as well as multivariate statistical methods. They learn how to interpret complex interrelationships and to identify significant changes to parameters in applied OMICs technologies – transcriptomics, genomics, proteomics and metabolomics.
Project planning and problem-solving skills
Many roads lead to Rome. When designing projects, good scientists are above all curious and flexible and look at the bigger picture. We will therefore teach you the skills you need to solve problems successfully. To this end, you will plan and carry out projects as part of your studies. In addition, you will learn how to develop and optimise the methods that play an important role in analysis.
What specialisations are available?
The first two semesters will cover the basics of molecular biology and chemistry. From the third semester you can choose between two specialisations: Mass Spectrometry focuses on deepening your knowledge of the latest innovative disciplines such as lipidomics and proteomics, and Molecular Analysis focuses on vaccine production, molecular diagnostics and gene therapy.
Mass Spectrometry
In mass spectroscopy you will deal with radical, innovative and highly relevant techniques. They include the function and application of various MS systems, such as time-of-flight mass spectrometers (TOF), linear quadrupole analysers, linear and three-dimensional quadrupole ion traps, orbitrap analysers and Fourier transform ion cyclotron resonance systems. You also examine all current and special ionising techniques and their applications, and quantifying techniques including related standardisation processes. In the field of chromatographic separation methods you will learn about sample taking and preparation, such as the specific enrichment of analytes using solid phase extraction and targeted derivatisation.
Molecular Analysis
Molecular analysis is an interdisciplinary subfield of biomedical research. During your studies you will deepen your knowledge of molecular biology and genetics. To this end, you will get to know the tools of molecular biology. In the applied OMICs technologies (transcriptomics, genomics, proteomics, metabolomics) module we teach you about the complicated path of biological information from DNA to the fully processed protein. You will also become familiar with the latest diagnostic strategies in the fight against microorganisms and cancer in molecular diagnostics and you will look into modern biomarkers and gene technology. If you choose this specialisation, you will also learn all about stem cells, gene therapy and personalised medicine.
Study mode, self-study and attendance
Study mode
The relatively low number of hours you are required to attend, the part-time organisation of the course and e-learning methods means that the degree programme can be combined with job and family. A third of the teaching is offered through e-learning. The classes you are required to attend at FH JOANNEUM are held at around 12 weekends per semester; a full day each on Friday and Saturday.
Attendance
Essentially, FH JOANNEUM requires attendance during all classes. You may be excused if you present a doctor's certificate to show that you were ill. Students require a minimum 80% attendance level. Absence due to professional reasons can be discussed on an individual basis and approved, where required. Ultimately, it is the head of degree programme who decides on the consequences of any absences or exceptions to the compulsory attendance requirement.
Read next:
Curriculum
To make your education as wide-ranging and practice-oriented as possible, the course content is divided into modules of different subject areas. Here you can find an overview of all modules and the associated courses.