Department of Building, Energy & Society
Construction Design and Economics
My Studies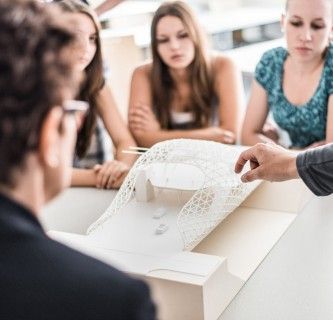 What is Construction Design and Economics?
The Construction Design and Economics course offers practice-oriented learning in the specialist areas of architecture and civil engineering, resulting in a Bachelor's degree.
During your studies you will be taught the basics of civil engineering and architecture through modern teaching methods. You can choose between specialisations in Architecture or Engineering, where the areas of focus include design, structural engineering, construction and project management. Interdisciplinary projects link the individual areas of study and prepare you for the complex tasks you will face in your professional career.
In the sixth semester you will successfully complete the internship which will take you into various areas of construction and architecture. The internship is frequently a springboard for your subsequent career. There are no limits to what you can achieve. You can gather professional and intercultural experience anywhere in the world.
The fields of activity students engage in after graduating from FH JOANNEUM range from structural engineering to civil engineering, from design to implementation and from a desk job to on-site construction management.
What will I learn?
Construction and Project Management
Cost is an important factor in implementing building projects: Only well-budgeted construction projects can be efficiently implemented. This is why we equip you with knowledge of the fields of calculation, tendering and contracting of building projects. We also extend your competence in the area of project management using the management tools you need.
Design
If you decide to specialise in Architecture, you will be introduced to architectural and artistic design and the basics of design by experts in the field. You will consolidate and extend your competence in interior design, building theory, residential housing and urban development.
Structural engineering
If you decide to specialise in Engineering, a principal focus of your studies will lie in the area of structural engineering. Structural design as an important element will be dealt with in many of your courses, taking you from conceptual design to detailed dimensioning in concrete, steel, timber and glass construction.
Read next:
Curriculum
To make your education as wide-ranging and practice-oriented as possible, the course content is divided into modules of different subject areas. Here you can find an overview of all modules and the associated courses.