Department of Engineering
Aviation
My Studies
Semester abroad
The aerospace industry is international. Although there are important aircraft manufacturers in Austria, such as Diamond Aircraft and Schiebel, the major plane manufacturers have their head offices abroad. International and intercultural cooperation is therefore indispensable in the supply industry.
Experience abroad is therefore of great advantage for the further career of our students – both professionally and personally. A semester abroad can be undertaken in the second year of studies.
How does it work?
Our students can spend a semester abroad either as part of an internship with a company or a research institute in the third semester or at a partner university in the fourth semester. The second alternative will involve writing their Master's thesis abroad.
A practical semester abroad is fundamentally open to all students, whereas places for an ERASMUS student exchange semester at one of our partner universities are limited. An internal selection and application procedure has therefore been set up, which is organised and run by our International Coordinator. Candidates for the available places will be nominated based on academic success. The courses and ECTS completed abroad will be credited to your degree at FH JOANNEUM.
Partner universities
The range of our partner universities reflects the diversity of the aerospace industry. Each of our partner institutions has a unique profile and offers specialisations in many areas. These range from technical issues, such as lightweight construction and fibre-composite materials, to operational aspects and aviation management. In this way our students can shape their stay abroad to suit their own interests.
Our Institute has close contacts with the following universities:
Contact and help
Tip:
Before embarking on your stay abroad, you can find out about the exact process, language offers and services available at FH JOANNEUM. Important details about the semester abroad can be found here. Interested in undertaking an internship abroad? Then you can find out all the information you need here.
Students talk about their semester abroad
I am an (air)Berliner!
Poor but sexy – this phrase describes the capital of our German neighbour. Everything may not work 100% faultlessly in Berlin but you quickly feel at home here as an Austrian because the somewhat Austrian principle of 'don't worry' is often applied.
Germany's second largest airline is based here and is not rich as Croesus – but that does not bother the employees ('don't worry'). Instead, there is a sense of the amicable, relaxed vibe which is typical of Berlin. Despite this, a lot certainly happens here, especially in the 'Performance Improvement' department which is striving to optimise flight processes. It's fascinating how complex and diverse an airline can be.
Often there is little time left to explore the city with its varied history – but the 'Kreuzberg nights' are long and during the stay, you will get to know lots of new faces, stories and walls and perhaps learn to love the city so much that after your Erasmus semester, you might find yourself saying "I am a Berliner!"
Stefan Stiedl
Graduate of the Master's degree programme in Aviation at FH JOANNEUM
Paul Canoij about his internship with Airbus in Toulouse, France.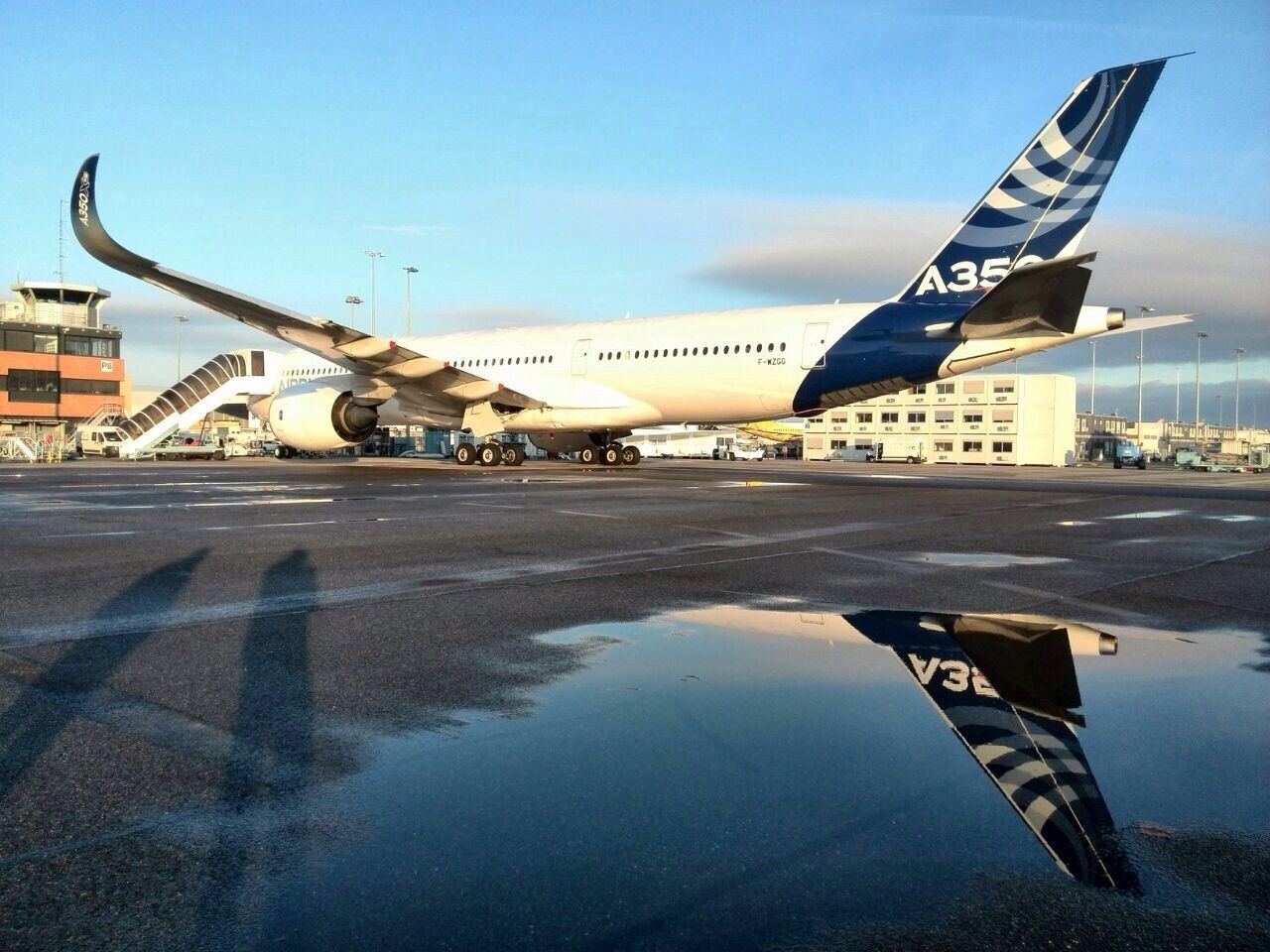 An Airbus A350 parked in front of Paul Canoij's office.
Ma vie à Toulouse
It is Mid-October, when I left Amsterdam behind me and headed by car towards Toulouse, a city situated far in the South of France. It is more than 1200 kilometers to drive, 300 kilometers less than when I would leave from Graz but still an incredible end, especially when knowing that the Hyundai Getz of my grandmother was going to be sacrificed to conquer this distance.
Toulouse also known as La Vie en Rose, is a city where I, before the conformation of my internship, haven't heard about it. Knowing that the city lays close to the Pyrenees and I will arrive in the Autumn season, have let me decide to fully pack my car with only winter proof stuff like winter clothes and ski equipment, even winter tires where mounted under the car. A decision that, at the time of my arrival seemed to be a very wrong one. With a temperature of plus 30 degrees at the moment of my arrival to temperatures of over 20 degrees until the end of November, have let me realise that I was really living in the south!
The reason why I moved, was because I had the opportunity to do my master internship at Airbus. During the six months of employment, I have had the privilege to experience the YouTube Aviation videos in reality such as a Rejected Take-off, Simulator- and Flight Tests, assembly of A350/A380 aircraft and I even worked with my bare hands on an A380 aircraft at the Final Assembly Line (FAL), with Emirates as future owner.
Besides these unique work experiences, Airbus connects. Is it by the many activities organised by staff associations such as Ski-, Squash- or Skydive association or activities organised by Airbus interns themselves, like weekly intern lunches, After-Work-snifters, flying /city /beach tours, hiking trips and many more…
The more than 300 sunny & long light days each year in Toulouse ensures that even after working hours there is plenty of time to fully enjoy the experience and to explore the unforgettable.