Department of Health Studies
Logopedics
My Studies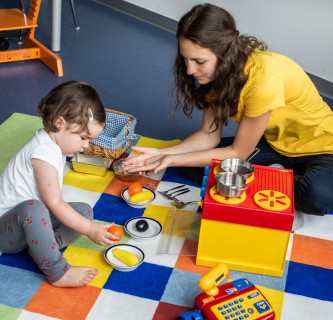 Vocational preparation
The curriculum starting in the winter semester 2021 guarantees a top-quality professional training. A consistent modular approach allows students to promptly consolidate their theoretical knowledge with practical experience. You will study related disciplines to gain all the expertise you need for a career as a speech therapist. You will also have access to a skills lab, compulsory elective subjects, and revision courses. Students are required to conduct an OSCE (Objective Structured Clinical Examination) to demonstrate their acquisition of the necessary skills and proficiency in diagnosis, therapy, counselling, reflection and general patient management.
Working in small groups
Working in small groups allows students to be taught both theory and practical skills in a focused and targeted manner. Group-working motivates students and makes the learning process more stimulating, particularly in practical areas. It also fosters learning and communication skills by giving students the opportunity to experiment and study at an advanced level, both professionally and personally.
Supervision
Supervision teaches students to strike the correct balance between personal contact and professional distance, which is the basic precondition for therapeutic work. In addition to a solid understanding of the subject matter, therapists must consider their available resources and apply them with care in order to meet the needs of each patient. Courses about supervision are provided throughout the entire programme.
Logopedic teaching practice
Students are given the opportunity to put their theoretical knowledge of diagnostics and therapy to the test in the programme's own therapy rooms. From the fourth semester onwards, students will independently treat patients in the university's innovative speech therapy facilities, directly on campus. This is a comprehensive process in which patients are referred by specialists and treated by students under the constant supervision of experienced speech therapists.
During the fourth semester, students treat children and young people who may have speech or language development difficulties, or orofacial abnormalities. Students in their fifth semester treat patients requiring voice therapy, and those in their sixth semester deal with patients with neurological disorders. The therapy appointments are arranged to fit in with the student's timetable and are usually repeated on a weekly basis. This procedure ensures the quality of each patient's therapy, right from the start.
Practical work
The speech therapy curriculum at FH JOANNEUM Graz requires students to complete six internships in clinics, outpatient departments or speech therapy practices. Starting from the second semester, students learn to deal with paediatric, neurology, phoniatrics and audiology patients, thus consolidating their practical education in all areas of speech therapy. More information about the internships can be found here.
Read next:
Infrastructure
You will be studying in modern facilities equipped with cutting-edge technology, at the interface between theory and practice. Here you can find out all about the infrastructure in this professional environment.