Department of Health Studies
Health Care and Nursing
My Studies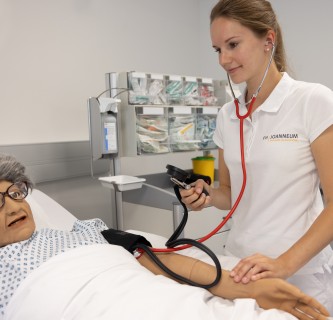 Simulation and skills training in healthcare and nursing
The Institute of Health Care and Nursing at FH JOANNEUM uses simulation-based teaching to enhance quality assurance in nursing care. Highly skilled nursing professionals are indispensable for mastering the challenges of ever greater complexity in the healthcare sector.
Simulation training as part of the studies supports the transition between theory and practice: students acquire skills during theory and practical sessions which can then be refined further in state-of-the-art skills and simulation labs. These skills are then implemented within a protected setting using complex real-world learning scenarios.
Simulation training in healthcare and nursing aims to develop specialist expertise as well as refining communication and social skills. The simulation involves developing solutions and courses of action and analysing them critically based on existing knowledge. Students are supported by specially trained teaching staff who offer specialist educational expertise in this modern form of learning.
Circle of Learning
The healthcare and nursing lectures and classes are modelled on the 'circle of learning' approach. Content is taught in lectures and subsequently consolidated by skills training in small groups using part-task trainers or high-fidelity simulators such as Nursing Anne. In the next step, students apply the knowledge and practical skills acquired in simulation scenarios.
The simulations allow them to prepare for clinical internships in which they are confronted with real-life nursing situations. Experience gained from the internships is then integrated and discussed in continuous training. Simulation-based teaching supports the transfer from theory to practice and prepares students for a career in nursing.
Read next:
Semester Abroad
During the semester abroad at one of our partner universities you will gather intercultural experiences and expand your horizon. Here you can find more information about requirements and how it all works.